Trump's immigration move will harm US research and leadership, scientists warn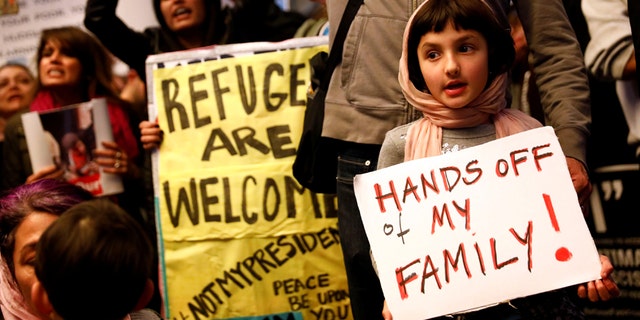 Thousands of scientists— including 40 Nobel laureates— have added their names to a statement powerfully denouncing President Trump's executive order restricting entry to the United States for people from seven nations.
Calling the order "discriminatory," and "detrimental to the national interests of the United States," the petition explains that not only does the immigration move "unfairly" target people from Muslim-majority nations, it also harms American science.
The statement also points out that the order places an "undue burden" on the members of the scientific community who are from one of the countries targeted by the executive order.
"The people whose status in the United States would be reconsidered under this [executive order] are our students, friends, colleagues, and members of our communities," it reads. As of Monday morning, the petition— which in addition to denouncing Trump's move, also ask him to reconsider the order— had more than 12,000 supporters, according to its website, notoimmigrationban.com.
"The unethical and discriminatory treatment of law-abiding, hard-working, and well-integrated immigrants fundamentally contravenes the founding principles of the United States," it adds.
Science relies on collaboration and open communication between researchers. And of the millions of scientists who live in the United States, 18 percent of them were immigrants, as of 2013, according to a report from the National Science Foundation. While a majority of those immigrants became naturalized citizens, according to the report, 15 percent held temporary visas and 22 percent were permanent residents. Trump's order initially was interpreted to include permanent residents, or green card holders.
The American Association for the Advancement of Science (AAAS) also responded to the move, warning that it could hurt the United States' place in the world as a scientific leader.
"Scientific progress depends on openness, transparency, and the free flow of ideas," the CEO of AAAS, Rush Holt, said in a statement. "The United States has always attracted and benefited from international scientific talent because of these principles."
"The January 27, 2017 White House executive order on visas and immigration will discourage many of the best and brightest international students, scholars, and scientists from studying and working in the United States, or attending academic and scientific conferences," he added.
An article on Science magazine's website also points out that researchers from Iran are "particularly vulnerable," given than many scientists originally from that country study in the United States. One Iranian postdoctoral researcher told that publication: "How can I stay in the United States and start my lab, thinking every moment, panicking, that I can't go back home if something happens to my family? There are thousands of people like me."