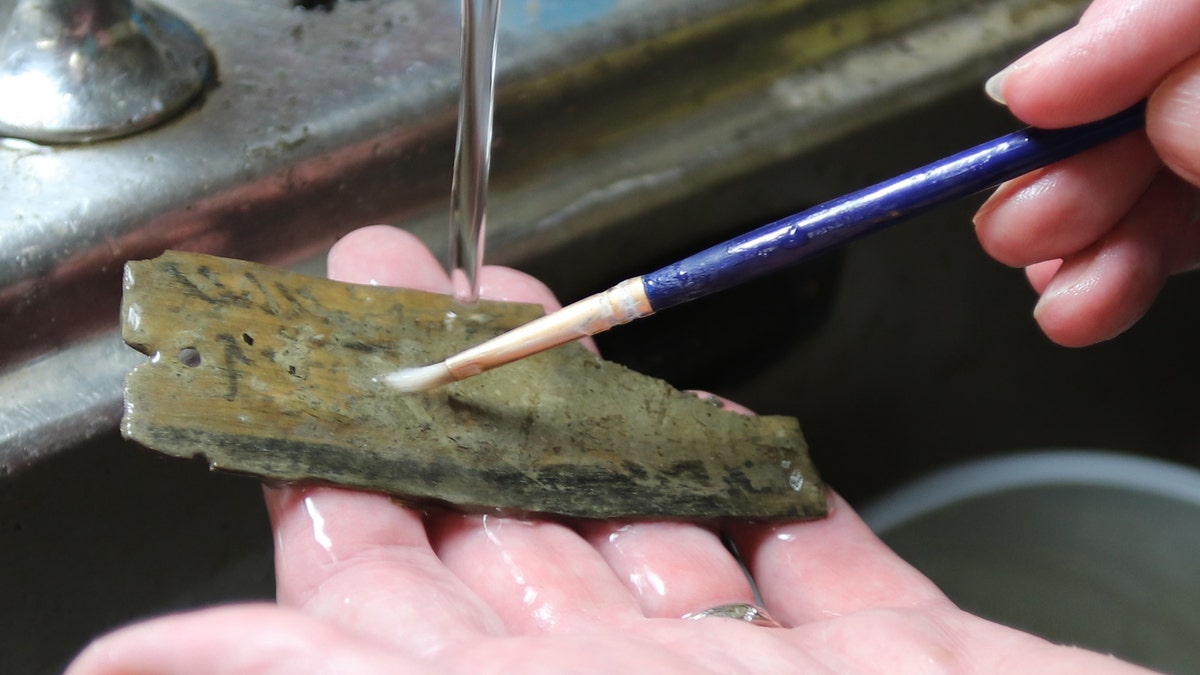 Archaeologists are thrilled by the discovery of 25 tablets that could reveal fascinating details of everyday life on the northern frontier of the Roman Empire.
The wooden ink documents were found on June 22 at the Roman fort of Vindolanda just south of Hadrian's Wall in Northern England. Archaeologists believe that the tablets date from between 85 and 92 A.D.
"It's just an incredible discovery," Dr. Andrew Birley, CEO of the Vindolanda Trust and director of excavations at the site, told Fox News. "It was 25 documents in one space, within a few meters – that, effectively, is a hoard."
SUBWAY DIGGING UNCOVERS 'POMPEII-LIKE SCENE' IN ROME
The rare pieces of wood, which are about the size of modern postcards, were found preserved in damp earth about 10 feet below ground level.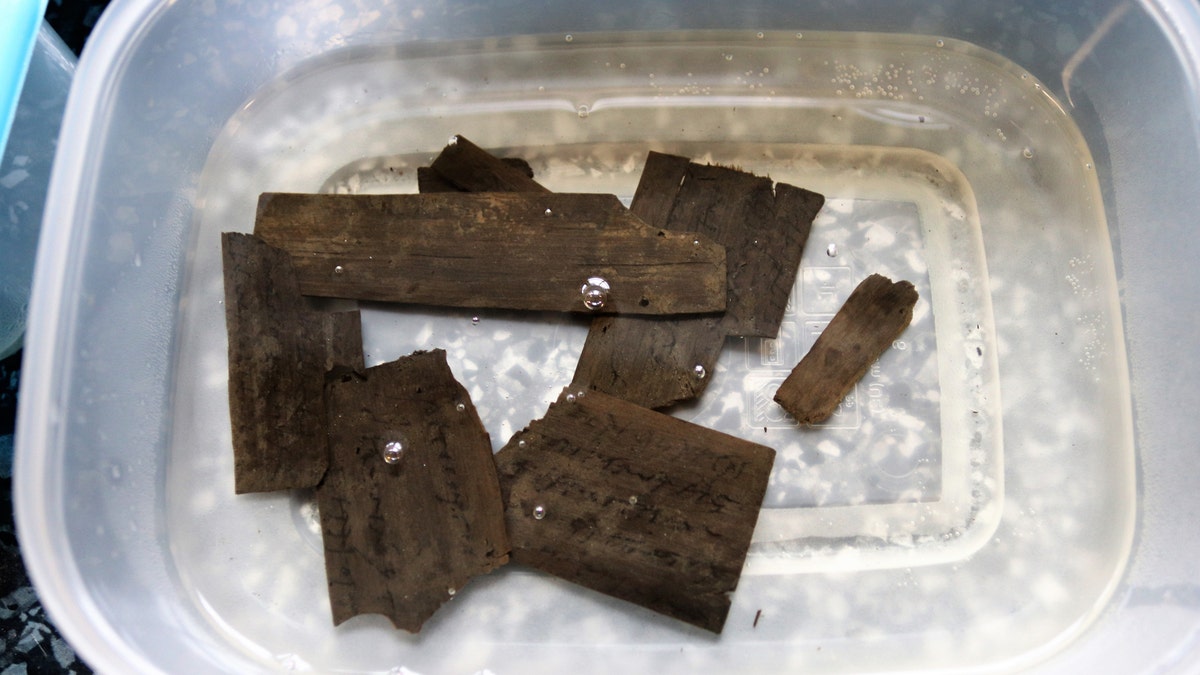 Experts could clearly read one of the tablets – a letter from a soldier called Masclus to his commanding officer requesting leave.
Masclus also features prominently in a trove of 300 tablets found at Vindolanda in 1992. In that haul, which dates from 105 A.D., Masclus made a request for beer from his commanding officer. "If you do not send me more beer, I cannot answer for the men," he wrote.
EARLY CHURCH DISCOVERED ON UK HOLY ISLAND, MAY BE LINKED TO MEDIEVAL SAINTS
"Masclus was a real character," Birley told Fox News, noting that the 12-year span between letters suggests he may have remained at Vindolanda despite a number of regiments rotating through the fort. "He's obviously got a role that, potentially, we have never conceptualized," he said. "We have learnt a lot, potentially, about how the Roman Army works."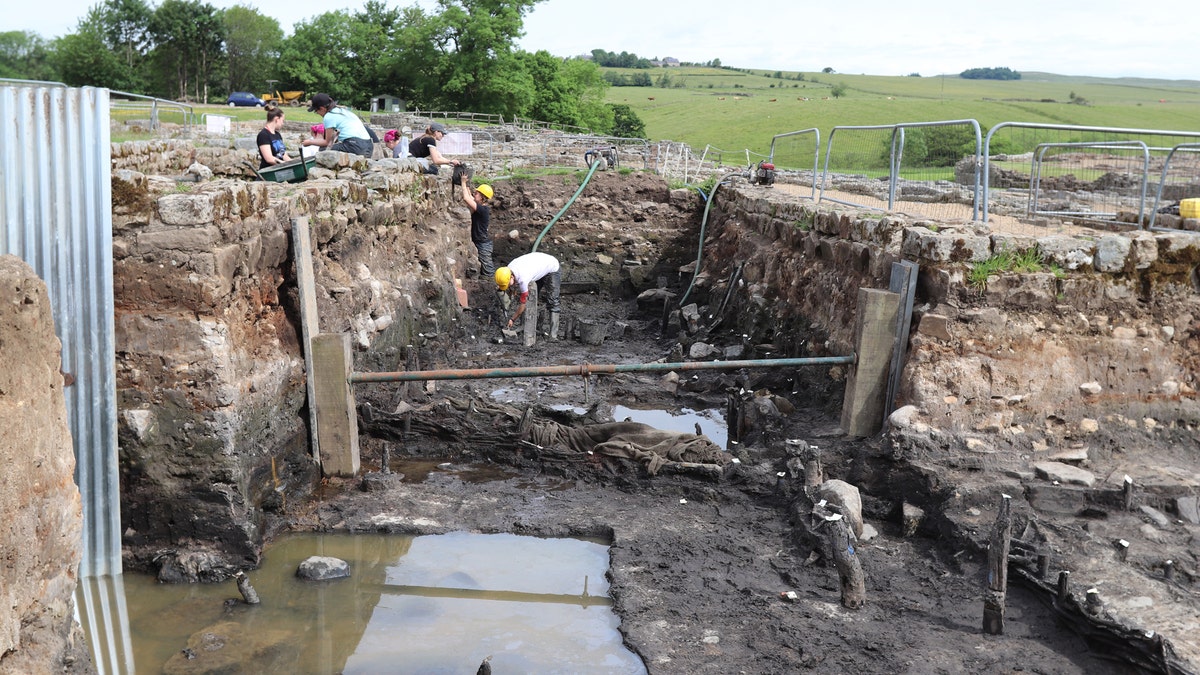 While experts do not know Masclus' exact rank, he may be a centurion, according to Birley. "Bearing in mind that he's responsible for a detachment of men, he's an officer of some sort," he explained. "It might be that he's a regional centurion, we don't know yet."
The fragile tablets, some of which are only 2mm thick, are now undergoing a painstaking three-to-four-month conservation process to ensure that they can survive in an oxygenated environment. "They are so fragile, that if we leave them in the oxygen, in the air, and they go black," explained Birley, noting that the tablets are being carefully cleaned with deionized water. The documents are then bathed in methylated spirits and dried out. Eventually, infra-red photography will be used to fully decipher their text.
BRONZE AGE CEMETERY DISCOVERED AT RITUAL SITE IN WALES

"We want to try to conserve these things as long as possible so that people can go back to the primary texts and continue reading them," Birley said. The archaeologist also noted that the current season of excavations at Vindolanda could unearth more surprises. "Our excavations have got another two-and-a-half months to go – this may not be the end of it," he said.
Follow James Rogers on Twitter @jamesjrogers