'Treasure-laden' Russian shipwreck sparks controversy
A recently discovered 113-year-old Russian shipwreck that may contain more than $130 billion in gold bars and coins is sparking controversy.
In a statement released Tuesday, salvage company Shinil Group confirmed that the stern of the vessel, the Dmitry Donskoi, once part of the Russian Imperial Navy, had been discovered off South Korea's Ulleungdo Island. The 5,800-ton ironclad cruiser was badly damaged following an attack by Japanese warships during the Russo-Japanese War and was scuttled in the Sea of Japan on May 29, 1905.
The company speculated about 200 tons of gold bars and coins that are worth 150 trillion won ($132 billion) would still likely be aboard the ship.
SUNKEN IMPERIAL RUSSIAN WARSHIP MAY CONTAIN $130 BILLION IN GOLD
The news sparked an investor frenzy in South Korea, prompting the country's financial regulator to issue a warning against possible investment losses.
Shinil is unlisted but its president recently agreed to acquire shares in a local company, Jeil Steel.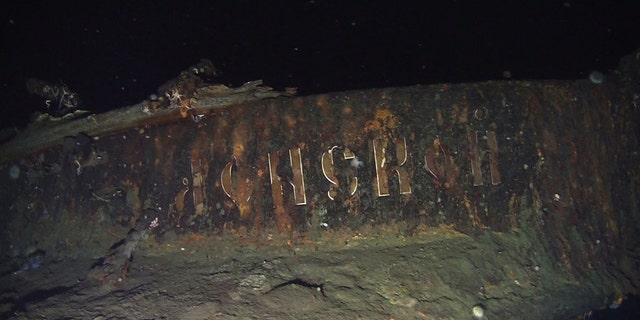 After Shinil's announcement on the Russian ship, Jeil's stock price rose by 30 percent on South Korea's KOSDAQ market on Tuesday. They continued their steep rise on Wednesday morning before Jeil in a regulatory filing clarified that Shinil's president would be its second-largest shareholder, not the largest, if the deal goes through. Jeil also said it has "no relation to the treasure ship business." Jeil's stock prices dropped more than 20 percent after Thursday's trading.
South Korea's Financial Supervisory Service said Thursday that it's closely monitoring trade activity involving the shares of Jeil Steel. An agency official said that the regulator was watching out for possible deceptive practices involving the trade of Jeil shares, including inducing investors through false information.
"Investors should beware because it's uncertain whether the ship is salvageable and whether Shinil would be able to gain ownership of the assets even if it gets permission to raise it," said the official, who didn't want to be identified citing office rules. "Dong-Ah Construction made similar claims over the same ship but failed to deliver on its promises and went bankrupt, causing huge losses for investors."
SUNKEN WWII SHIP MAY CONTAIN $130 MILLION WORTH OF NAZI GOLD
Shinil Group has also launched a cryptocurrency exchange linked to the ship's discovery. "Shinil Group is turning the dream of salvaging the Donskoi ship into reality," it explains, on its website, adding that it will "share its profits with the public." People signing up for the exchange will receive virtual currency dubbed Shinil Gold Coins, with additional 'Coins' given to those who attract additional members.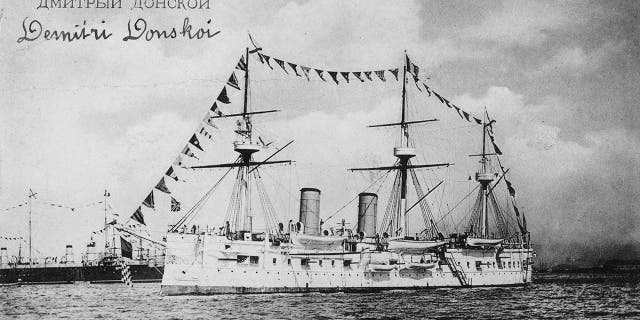 Coins can be exchanged for "cultural vouchers" that can be exchanged at the likes of bookstores and other and other retail outlets, according to Shinil Group.
Fox News has reached out to Shinil Group with a request for comment on this story.
The Dmitry Donskoi was in a fleet of 38 Russian Imperial Navy ships deployed from the Baltic to the Pacific. Citing historical accounts, The Express reports that the Dmitry Donskoi may be treasure-laden. In addition to carrying port expenses and salaries for the fleet's sailors and officers, she may have held gold reserves of other Russian ships damaged in the Battle of Tsushima in May 1905.
AMAZING DISCOVERY ON THE SEABED: SPACE TREASURE MAP LEADS TO MYSTERIOUS SHIPWRECK SITE
Rumors of a gold hoard on the ship have swirled for decades, although the possibility of a sunken treasure has also been viewed with skepticism. According to The New York Times, one historian told Bloomberg in 2000 that it would have been safer to send the gold to the Russian Pacific port of Vladivostok by rail, as opposed to using a ship.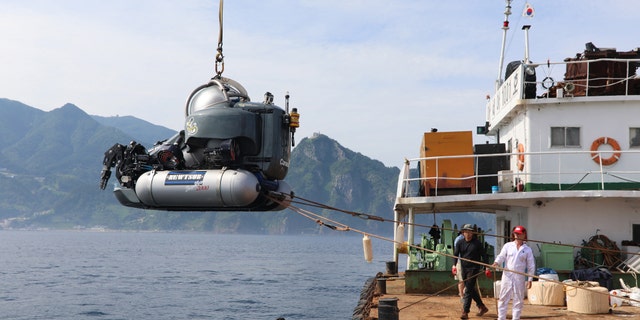 Some experts also said it's unlikely that the Donskoi, a thickly armored warship with more than 12 artillery pieces, 500 sailors and presumably 1,600 tons of coal, would have had room for 200 tons of gold, which would be double the current gold reserves at South Korea's central bank. Similar skepticism has been expressed on social media. And there's questions about the gold's worth being estimated at $132 billion — the Bank of Korea's 104 tons of gold reserves are valued at around $4.8 billion.
It's unclear whether Shinil would receive South Korean government approval of its salvage plans.
The Associated Press contributed to this article.
Follow James Rogers on Twitter @jamesjrogers