Trap door revealed secret Michelangelo room that public may soon be able to see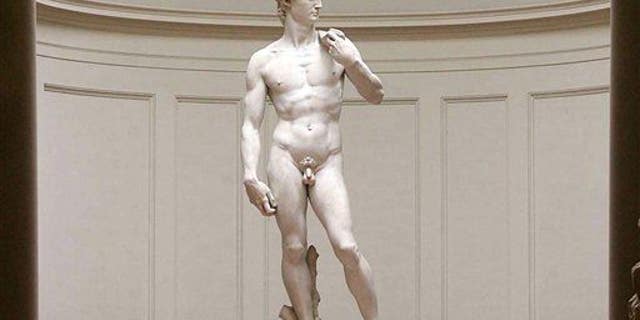 For two months in 1530, Michelangelo hid in a secret underground room beneath the Medici Chapels, "fill[ing] the walls with drawings" to forget his fears, as he later recalled.
He had been commissioned by the Medicis, the most powerful family in Florence, to build the chapels—a mausoleum for members of the family—but had to hide out after backing a popular revolt against their rule.
"I hid in a tiny cell, entombed like the dead Medici above," he recalled after he was eventually pardoned by the Medicis and completed the chapels.
The room went undiscovered until 1975—and now, for the first time, the public could be able to view it, the Telegraph reports. Some of the sketches he left on the walls resemble the Renaissance master's famous works, including parts of the Sistine Chapel, the Local reports.
Other doodles may have been left behind by workers on the Medici Chapels project. When custodians in 1975 happened upon a trap door underneath a wardrobe, which led to a narrow flight of stone stairs into the secret room, they found walls covered in mold and grime.
But even then, the outlines of Michelangelo's charcoal and chalk sketches of human figures could be seen. The walls were cleaned, but the room was closed to protect the art.
Now, the director of the Bargello Museum, which manages the Medici Chapels says officials are "working on making the secret room of Michelangelo accessible. There's a plan underway to make the space safe for visitors." Due to the narrow, steep stairs, only a small number of visitors will likely be allowed at a time.
The director hopes to open the room to the public within three years. For now, those interested can take a virtual tour of the 23-foot-by-6.5-foot room online.
(Paintings of Michelangelo reveal his malady.)
This article originally appeared on Newser: Secret Room Where Michelangelo Hid, Sketched to Be Opened