Toughie the frog, likely the last of his species, dies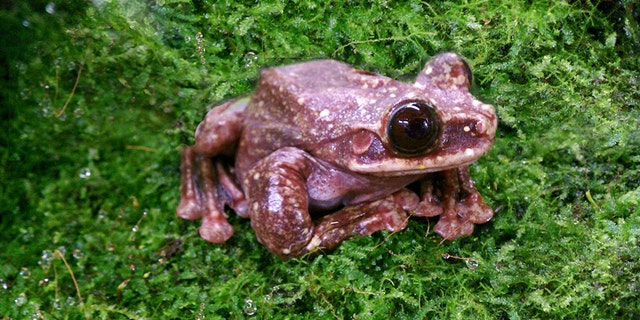 NEWYou can now listen to Fox News articles!
A frog named Toughie, likely the last of his species, died quietly in his enclosure at the Atlanta Botanical Garden this week, reports the Atlanta Journal-Constitution.
"He will be missed by Garden staff and visitors alike," the Garden posted on Facebook. The Rabbs' fringe-limbed tree frog wasn't even discovered until 2005 when scientists were attempting to rescue specimens of any amphibian they could before a deadly chytrid fungal infection hit Panama.
According to National Geographic, Toughie made it out of Panama, but it's estimated that the chytrid fungus killed up to 85 percent of all amphibians left behind in his natural habitat.
He had lived in isolation at the Garden since 2008. A cause of death is unknown, but Toughie was believed to be at least 12 years old.
In his final years, Toughie became a "symbol of the extinction crisis." His photo was projected onto St. Peter's Basilica, and he was visited by film directors and race car drivers.
"A lot of people were moved to tears when they saw him," a photographer who worked with Toughie says. "When you have the very last of something it's a special deal." While some scientists are holding out hope for the Rabbs' tree frog, it's likely Toughie was the last, Scientific American reports. His species hasn't been seen in the wild since 2007. It's rare for humans to actually witness an extinction when it happens and not just learn about it years later. (For the first time, bees have been put on the endangered species list.)
This article originally appeared on Newser: Toughie the Frog, Likely the Last of His Species, Dies