Tortoise with cracked shell recovers after $4G operation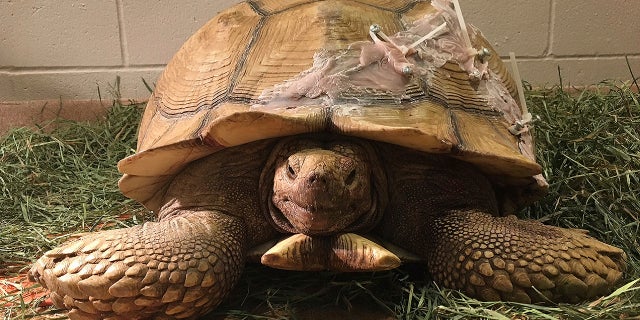 A wayward tortoise that cracked its shell after falling off a 10-foot wall in California is recovering this week from a three-hour operation that cost $4,000.
Vets used screws, zip ties, denture material and plastic wrap to repair the 90-pound African spurred tortoise.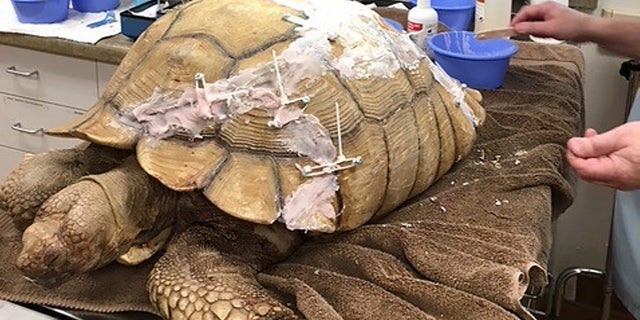 The cost is being covered by San Diego County Animal Service's donor-driven Spirit Fund, which was set up to care for animals with severe medical needs.
"We have a donor-driven Spirit Fund that we can use for severe medical cases such as this one," County Animal Services Director Dan DeSousa said, according to the county's communications office. "This tortoise will get the extensive, aggressive care and long-term observation that he needs to regain his health and hopefully live to a great, old age."
DeSousa said the male tortoise probably was a pet that got loose from a yard.
It was found Sunday after falling over the wall while escaping a dog. The fall caused the animal's shell to crack into three pieces.
An animal control officer took the injured tortoise to a veterinarian that specializes in reptiles for emergency care and observation.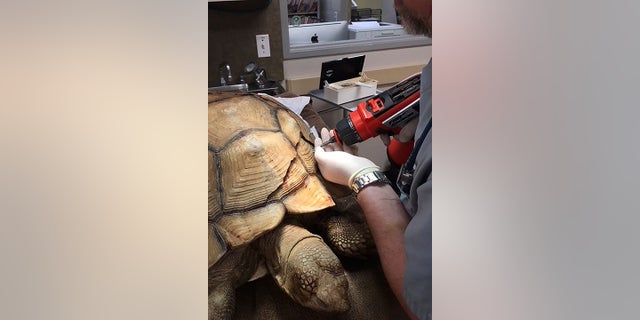 The 35- to 40-year-old tortoise will likely take a year to heal, DeSousa said, adding that the creature's prognosis is good.
African spurred tortoises typically live to be 70 years old.
If its rightful owner can't be found, the now-repaired tortoise will live with a rescue group, and will not become available for adoption, the county communications office said.
The Associated Press contributed to this report.