Titanic stunner: Menu from first meal served on doomed ocean liner up for auction
An extraordinarily rare copy of a lunch menu from the first meal served onboard the RMS Titanic is going up for auction later this month.
The item is one of just two known to exist.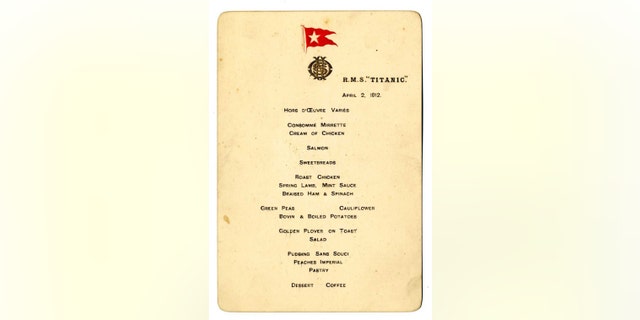 The menu, which is the size of a postcard, is embossed with a gilt logo of the Oceanic Steam Navigation Company and a red White Star Line burgee in relief.
The lunch was served on April 2, 1912, eight days before departure, to men who worked on the ship in an official capacity. The menu options that day consisted of Consommé Mirrette, Cream of Chicken, Salmon, Golden Plover on Toast, Peaches Imperial and Pudding Sans Souci.
"It's one of the rarest menus from the Titanic in existence," said auctioneer Andrew Aldridge, from auction house Henry Aldridge & Son.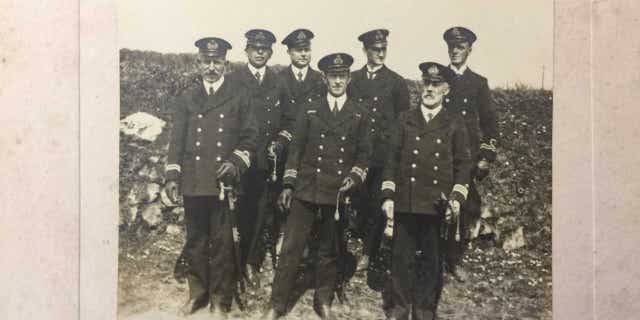 "Any menu from the ship is truly rare, with maybe only 15 to 20 in total, but this particular one, there are only two known. This menu belonged to Second Officer Charles Lightoller, one of the most famous people on the ship. To have it as his personal menu, this is a superb piece."
RARE TITANIC LOVE LETTER UP FOR AUCTION OFFERS INSIGHT INTO LIFE ON THE DOOMED OCEAN LINER
Lightoller, the highest ranking surviving officer from the Titanic, gave the menu to his wife as a souvenir as he departed from Southampton, England on April 10, 1912.
Not only is Lightoller famous for surviving the Titanic, but he was also a decorated Royal Navy officer during World War I, commanding the HMS Garry.
During World War II, Lightoller provided and sailed as a volunteer on a ship that helped aid the famous Dunkirk evacuation, brought back to recent memory by Christopher Nolan's Academy Award-winning movie. Lightoller died on Dec. 8, 1952 at the age of 78.
The Titanic sank in the Atlantic Ocean in the early hours of April 15, 1912, just five days after its maiden voyage started. There were approximately 2,224 people onboard the ship, 1,503 of whom perished, making it one of the most deadly shipwrecks in modern history.
Alridge explained that not every meal was as "opulent" as this one, provided to men who worked on the ship in an official capacity.
The Titanic was set to leave Belfast, Ireland for Southampton on April 1, but did not leave because of poor weather, which postponed the trip to the following day.
It was during this day that the meal was served, hours before any passengers boarded the ill-fated ocean liner.
SAILING TO DISASTER: RARE TITANIC PHOTOS UP FOR AUCTION
In their book "Titanic Triumph and Tragedy," Titanic historians John Eaton and Charles Haas wrote: "Lunch was now ready but there was one more test to be conducted ... While lunch was being served in the main dining saloon the vessel was put at dead slow, and such observers, representatives and officers as could be spared sat down for their meal, still conversing, comparing, exchanging data, following lunch the major stopping test was conducted."
The other copy of that first meal belonged to Fifth Officer Harold Lowe. Lowe enscripted on the menu, "This is the first meal ever served on board." Henry Aldridge & Song also sold this menu 14 years ago, however, the bottom had been ripped off, making Lightoller's the only complete menu from this first meal known in existence.
It has a pre-sale estimate of $114,057-$142,572 (£80,000 – £100,000.)
Follow Chris Ciaccia on Twitter @Chris_Ciaccia.