Titanic menu surfaces, offers glimpse into doomed liner's final days
An extremely rare menu from Titanic's doomed maiden voyage to New York is up for auction in the U.K. this weekend.
The First Class menu is from the first dinner on the ship after she departed Southampton, U.K. on April 10, 1912.
"It illustrates the lavish and opulent culinary delights for First Class passengers with a total of over twenty different options for dinner," explains auction house Henry Aldridge & Son, in a statement.
TRAGIC TITANIC LETTER SELLS FOR $166G AT AUCTION

The menu was sent by First Class Steward Charles Casswell to his wife, Hilda, when Titanic picked up passengers in Cobh, Ireland, on April 12, 1912. At that time, Cobh was called Queenstown.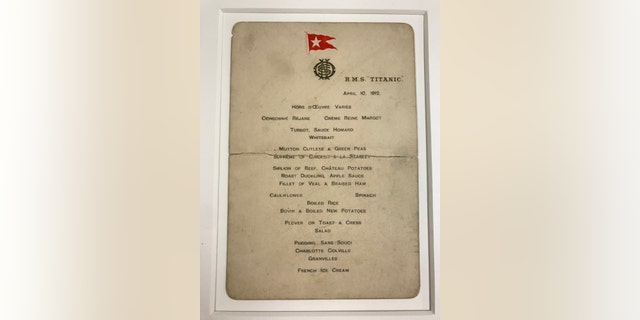 Titanic hit an iceberg at 11:40 p.m. ship's time on April 14, 1912, and sank just over two hours later with the loss of more than 1,500 lives. Caswell perished in the disaster.
The menu, which has a pre-sale estimate of $65,351 to $78,421, will be auctioned on Saturday. Other Titanic artifacts in the sale include a poster advertising third class tariffs on the ship's return voyage from New York to Europe and a pair of brass lifeboat plaques from the liner.
Another Titanic menu, one from the first meal ever served on the ill-fated ocean liner, went up for auction this past April.
DID THIS ICEBERG SINK THE TITANIC?

More than 100 years after the Titanic's sinking, the disaster continues to be a source of fascination.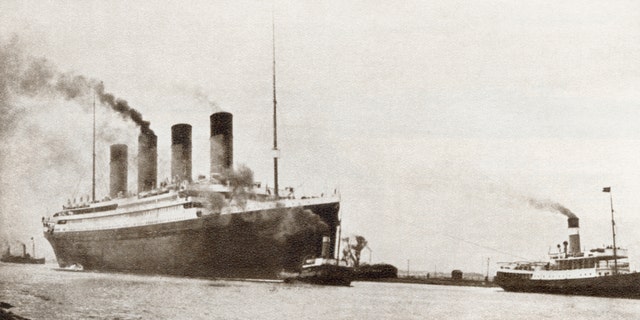 Last year a sea-stained letter recovered from the body of a Titanic victim was sold at auction for $166,000.

In 2016, the sextant used by the captain of rescue ship Carpathia sold for just under $97,000. A year earlier, a cup presented to the captain by Titanic survivor Molly Brown to the Carpathia captain sold for $200,000.
Follow James Rogers on Twitter @jamesjrogers