Did this iceberg sink the Titanic?
NEWYou can now listen to Fox News articles!
A photo purportedly showing the iceberg that sank the Titanic is expected to sell for over $15,000 when it is auctioned in the U.K. on Saturday.

Henry Aldridge & Son is auctioning the remarkable photo and a fascinating document that accompanies it. The photograph was taken by the chief steward of the liner Prinz Adalbert on the morning of April 15, 1912. The Titanic, which struck an iceberg at 11.40 p.m. ship's time on April 14, sank just over two hours later with the loss of more than 1,500 lives.
Related: New image shows Billy the Kid
playing croquet
The crew of the Hamburg America Line liner was unaware of the terrible event when they saw the iceberg, according to the document. "On the day after the sinking of the Titanic, the steamer Prinz Adalbert passes the iceberg shown in this photograph," it says. "The Titanic disaster was not yet known by us. On one side red paint was plainly visible, which has the appearance of having been made by the scraping of a vessel on the iceberg. SS Prinz Adalbert Hamburg America Line," the document added. The document is signed by the chief steward and three other crewmen.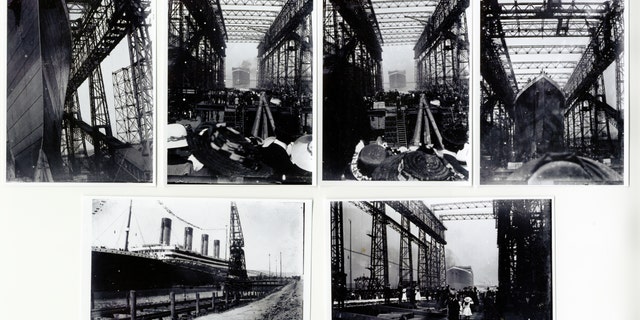 While other photos of the iceberg exist, the note makes this one particularly intriguing. "By its very nature, no-one can say beyond reasonable doubt that it is the iceberg, but what is really fascinating is its provenance," Henry Aldridge & Son Auctioneer Andrew Aldridge told FoxNews.com. "The cherry on the top is having a copy of the note from the chief steward."
The related image shows Titanic launch photos taken on May 31, 1911 (Henry Aldridge & Son).

The auction house notes that the photograph was acquired not long after the Titanic's sinking by Burlingham, Montgomery & Beecher, attorneys for the ship's owners, White Star Line. Hamburg American Lines, also a client of Charles Burlingham, a senior partner, sent the photograph to him when they learned that he was defending Titanic's owners in the New York litigation arising out of the sinking.
The lot containing the photo and document has a presale estimate of between $15,482 and $23,223. The artifacts are among more than 200 lots that will go under the hammer as part of Henry Aldridge & Son's 'Titanic, Hindenburg and other icons of the 20th century' auction. Other lots include five unpublished photos of Titanic's launch on May 31, 1911 and a tray recovered from the Hindenburg crash site.
Follow James Rogers on Twitter @jamesjrogers