Time may be up for the leap second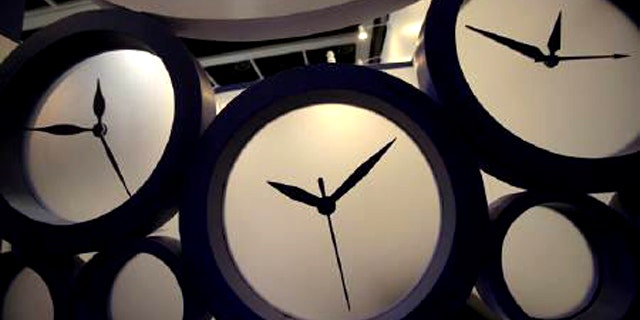 NEWYou can now listen to Fox News articles!
GENEVA – Time could soon be up for the leap second -- that extra moment added to universal time to keep it in sync with the earth's movement -- as experts consider abolishing it later this week.
Coordinated Universal Time (UTC) is based on about 400 atomic clocks at laboratories around the world, occasionally corrected with a leap second to align it with the earth's varying rotation.
The world's computer systems need to be adjusted accordingly, leaving them open to error, and many countries including the United States and France want to end the 40-year-old practice.
After years of debate, delegates with the International Telecommunication Union will decide Thursday whether to abolish the leap second.
"It's impossible to predict when we will need the leap second to be inserted," said Vincent Meens, chairman of the ITU's study group on the matter.
"The reason for this is due to the rotation of the earth and some events like earthquakes that can slow the earth a bit more than expected.
"All computer systems need to be adjusted with this leap second, and that creates a problem because it needs to be done manually.
"There is always a risk of error, so we have to test them after the introduction of the leap second. If we remove it, then we don't have this problem anymore."
The ITU said 13 of 16 countries that responded to a poll last year were in favor of abolishing the leap second.
Britain, China and Canada are opposed to the change, which would aid the telecommunications industry but lead to a discrepancy between the earth's time and atomic time of about 15 seconds every 100 years.
A decision to remove the leap second would need to be rubberstamped at the ITU's World Radiocommunication Conference taking place from January 23 to February 17.