This chimp behavior is baffling scientists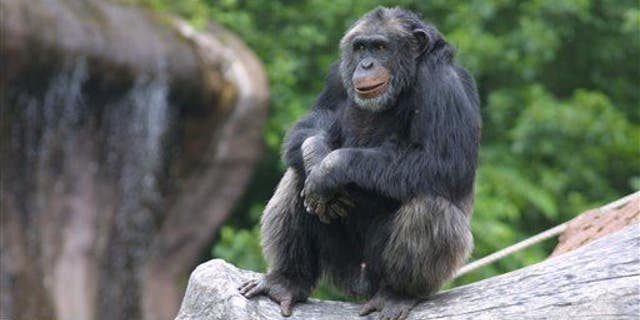 Chimpanzees in West Africa are throwing rocks at trees, and why they're doing it remains a mystery, Discovery reports. Researchers from the Max Planck Institute for Evolutionary Anthropology say this chimp behavior has never before been documented and that it may shed some light on the species' cultural customs—and even those of early humans.
The scientists involved in the study published in Scientific Reports note that with camera traps, they found four chimp populations that "habitually bang and throw rocks against trees, or toss them into tree cavities," amassing the rocks in "conspicuous" piles.
The chimps are seen on camera picking up stones, then lobbing them at the trees while letting out a "long-distance pant hoot vocalization." It's been mostly males observed engaging in this behavior (and only in West Africa), though there have been some females and juvenile chimps that have also taken part.
And while chimps are known to use various tools for foraging—a press release notes they'll wield sticks to get bugs or honey, or stone or wooden hammers to smash open nuts—that doesn't seem to be the case here.
"As the stone accumulation behavior does not seem to be linked to either the abundance of stones or the availability of suitable trees in an area, it is likely that it has some cultural elements," study co-author Christophe Boesch says.
Another co-author, Laura Kehoe, lists some possibilities for the Conversation: The loud behavior could be a (mostly) male display of some sort, or the rocks could be used as a "signpost" to mark paths or territories.
Or, Kehoe notes, they may be part of a "sacred" ritual. "Indigenous West African people have stone collections at 'sacred' trees and such man-made stone collections are commonly observed across the world and look eerily similar to what we have discovered here," she writes.
(A chimp carefully planned out her attack … on a drone.)
This article originally appeared on Newser: Chimps Are Inexplicably Hurling Rocks at Trees
More From Newser