The Nazis stole the painting. He says Christie's should have known that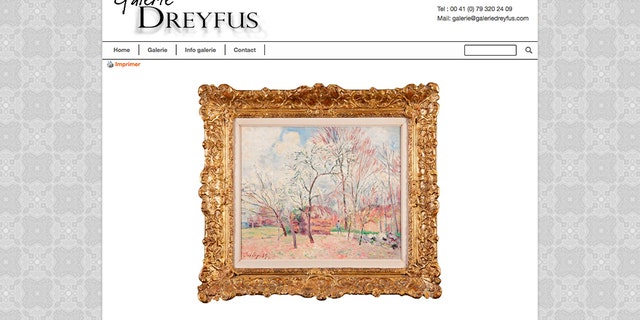 NEWYou can now listen to Fox News articles!
The buyer of a painting reportedly stolen by Nazis wants some $800,000 from Christie's auction house, which he claims "didn't do enough work" to clear the provenance of Alfred Sisley's "First Day of Spring in Moret." French art dealer Alain Dreyfus says he bought the 1889 piece for $338,500 at a 2008 auction only to later learn it was stolen from Jewish collector Alfred Lindon in Paris in 1940, perhaps by the Nazi Party's Hermann Goring, whose initials appear on a card that accompanies it, per ArtNet News.
That information surfaced in 2016 when Mondex, a company specializing in looted art, determined Lindon's heirs were the rightful owners, per the New York Times.
Dreyfus says he's prepared to give the painting back to the family, which has filed a claim in court. But first he wants a refund from Christie's, plus interest.
Christie's, which at the time of sale reported a gap in the painting's history from 1923 to 1972, isn't having it, claiming the issue is between Dreyfus and Lindon's heirs.
It says a perusal of four "available and routinely checked" databases before the 2008 sale showed no sign the painting was stolen. There was "no active claim on the work and no discoverable information that would directly connect this specific work with the claimant family," a rep adds, per the Telegraph.
Had Christie's done Mondex's same legwork, however, Dreyfus says it would've found a French directory listing three spring scenes from Sisley as stolen and US documents showing Lindon as owner of a stolen painting with the same dimensions, signature, and date as "First Day of Spring in Moret." "If you sell stolen paintings, you have to pay back the buyer," Dreyfus says.
(A Nazi-looted painting recently returned home to Poland.)
This article originally appeared on Newser: Buyer Wants $800K After Learning of Painting's Messy Past