The Face of the World's Most Typical Person?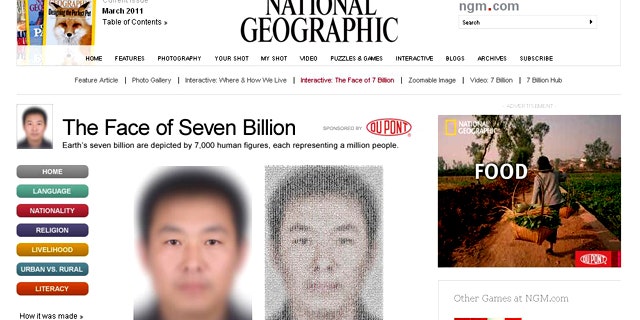 NEWYou can now listen to Fox News articles!
This is the most typical face on the planet: a 28-year-old Chinese man.
National Geographic's latest project is an ambitious effort to understand the human race -- a race that will soon encompass a staggering 7 billion human beings, the magazine said.
As part of its project, National Geographic set out to figure out what constitutes the most typical attributes of human beings. After combing through the stats, they determined that the most typical person is Chinese, as 19% of humanity is, and speaks Mandarin -- as 13% of people do.
The typical human is also Christian, holds a service job and lives in an urban environment.
He's right-handed, too, and definitely male, as there are slightly more men on the planet than women -- just barely, National Geographic said.
With that information, the magazine used a composite image from the Chinese Academy of Sciences, which combined 190,000 photos of 28-year-old Han Chinese men to create a composite face, seen on on the left in the image above.
Digital artist Joe Lertola then recreated the image on the right, in the style of pointilist paintings, using 7,000 human figures -- one for every million people on the planet. Watch the video for a few more interesting facts, and some thoughts on who the most typical person will be in 2020.