Stunning NASA image shows 'Morse code' dunes on Mars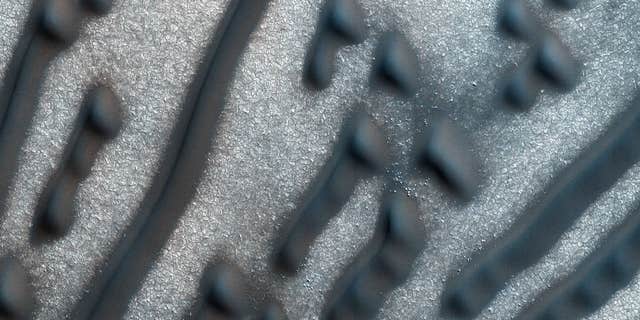 NEWYou can now listen to Fox News articles!
NASA has released an image of dunes on Mars that bear a striking similarity to Morse code.
The image, which was taken on Feb. 6, 2016 by the High Resolution Imaging Science Experiment (HiRISE) camera on NASA's Mars Reconnaissance Orbiter, shows a series of dark dunes on the Red Planet's surface.
In a statement, NASA explained that the dunes are influenced by local Martian topography. "The shape and orientation of dunes can usually tell us about wind direction, but in this image, the dune-forms are very complex, so it's difficult to know the wind direction," it said.
The space agency notes that a circular depression on Mars, which is probably an old impact crater, has limited the amount of sand available for dune formation and also influenced local winds. "As a result, the dunes here form distinct dots and dashes," it said. "The 'dashes' are linear dunes formed by bi-directional winds, which are not traveling parallel to the dune."
Winds hitting the dunes at right angles from two directions funnel the surface material into the linear shapes seen in the image. "The smaller "dots" (called "barchanoid dunes") occur where there is some interruption to the process forming those linear dunes," NASA explained. "This process is not well understood at present and is one motivation for HiRISE to image this area."
Built by Ball Aerospace, the HiRISE camera is operated by the University of Arizona, Tucson.
Mars looms ever larger in America's space future. Earlier this year NASA announced a May 2018 launch for its delayed Mars Insight mission to study the red planet. NASA's Mars Reconnaissance Orbiter celebrated 10 years at the red planet on March 10.
NASA's goal is to send a manned mission to Mars by 2035. However, former astronaut Buzz Aldrin thinks that a slightly later target date of 2040 is more realistic. In an interview earlier this year, the Gemini 12 and Apollo 11 astronaut told FoxNews.com that by 2040, astronauts could have visited Mars' moon Phobos, which could serve as a sort of stepping stone to the Red Planet.
Private space company SpaceX plans to launch an unmanned mission to Mars as early as 2018, with CEO Elon Musk eyeing a manned space mission around 2025. Musk also hopes that humans will one day establish a city on Mars.
Follow James Rogers on Twitter @jamesjrogers