Stephen Hawking's prized possessions up for auction
Days after legendary physicist Stephen Hawking's final paper was published, a great number of his prized possessions will go up for auction, including some of his most important papers, including his doctoral thesis, a copy of "A Brief History of Time" and the script for one of his appearances on "The Simpsons."
Twenty-two lots will be up for auction between Oct. 31 and Nov. 8 in an online Christie's auction known as "On the Shoulders of Giants." Included in the lots are 12 of Hawking's most important published papers, including his 1965 doctorate thesis. At the time, Hawking had already been diagnosed with amyotrophic lateral sclerosis (ALS or colloquially known as Lou Gehrig's Disease). The thesis is signed by Hawking: "This dissertation is my original work, S.W. Hawking."
It is one of five known copies of his thesis, the auction house said, and has a pre-sale estimate between $126,000 and $189,000.
STEPHEN HAWKING'S FINAL PAPER REVEALED
In October 2017, the University of Cambridge uploaded Hawking's thesis to its website and the surge in traffic from interested parties crashed the website.
"The lots selected for sale highlight Professor Hawking's remarkable achievements in science alongside his unique personality and inspirational life story," Thomas Venning, Head of the Books and Manuscripts department, said in a statement.
The auction will conclude with Professor Hawking's wheelchair, which Venning said allowed him to tour "the world as a successful scientific communicator, and from which his mind voyaged to the outer reaches of space-time, making it literally and figuratively one of the most-traveled wheelchairs in history." Its pre-sale estimated value is between $12,600 and $18,900.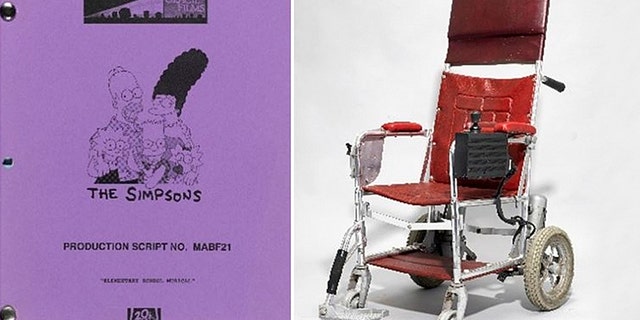 Proceeds from the auction will benefit the Stephen Hawking Foundation and the Motor Neurone Disease Association, Christie's said.
Although Hawking may have been incapacitated physically, he managed to inspire people around the globe, teaching physics and mathematics, delivering speeches and floating in zero gravity, all while working in the fields of cosmology and quantum gravity.
He was not modest about what he wanted to do. "My goal is simple," he once said. "It is a complete understanding of the universe, why it is as it is and why it exists at all."
"My goal is simple. It is a complete understanding of the universe, why it is as it is and why it exists at all."
In addition, the London-based auction house will also put up a copy of "A Brief History of Time", a 1988 best-seller, that is signed with Hawking's thumbprint. A leather bomber jacket and a copy of the script of the 22nd season premiere of "The Simpsons," entitled "Elementary School Musical," for which Hawking lent his voice.
After Hawking passed away in March this year at the age of 76, "The Simpsons" paid tribute to the renowned physicist.
A LOOK BACK ON THE LIFE OF RENOWNED PHYSICIST STEPHEN HAWKING
In the aforementioned statement, Stephen Hawking's daughter, Lucy, said the family was happy with work with the auction house to give his fans a chance to acquire part of his accomplishments.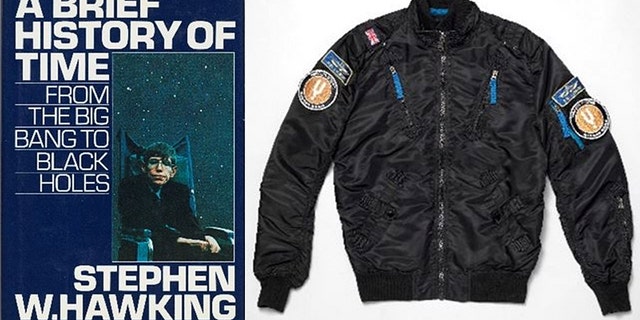 "We hope to be able to offer our father's archive to the nation through the Acceptance in Lieu* process as we feel it is a huge part of his legacy but also of the history of science in this country," Lucy said. "We are also giving admirers of his work the chance to acquire a memento of our father's extraordinary life in the shape of a small selection of evocative and fascinating items."
Aside from some of Hawking's possessions being offered, possessions from other famous scientists, including Sir Isaac Newton, Charles Darwin and Albert Einstein will be included in the auction.
Follow Chris Ciaccia on Twitter @Chris_Ciaccia