Star teen snake wrangler fighting for life after bite from 'world's deadliest snake'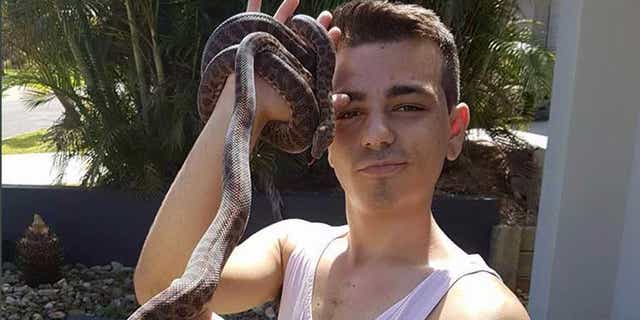 NEWYou can now listen to Fox News articles!
A famous 19-year-old snake wrangler from Australia is fighting for his life after being bitten by his pet snake, one that is regarded as the world's most venomous.
Nathan Chetcuti, from Brisbane, Australia, was attempting to put his pet inland taipan back into its enclosure on Sunday when the snake lashed out and bit him. Nathan's father immediately called emergency services after seeing the horiffic attack.
Toxicologist Dr. Geoff Isbister told the Australian Broadcasting Company that the snake's poison can cause major issues for humans. "In terms of its effects, it causes blood not to clot, but its most important effect is it causes neurotoxicity," Isbister said. "So if it's not treated early, it can cause paralysis."
HOW THE TIGER SNAKE'S VENOM BEAT EVOLUTION
As of Nov. 7, Chetcuti was still in serious condition in the intensive care unit of Redcliffe Hospital in Queensland, where his family has remained by his side.
On Chetcuti's YouTube page, Australian Pythons And Other Reptiles, which has more than 4,000 subscribers, he has several videos of non-venmous snakes and other reptiles, according to a report in news.com.au, which first reported the story.
The inland taipan snake, however, is known as a fierce snake from central east Australia and is regarded as the most venomous snake on the planet. A bite from the inland taipan could kill a person in 45 minutes if left untreated, according to a 2013 report from the University of Melbourne.
Unlike the saw-scaled viper or the king cobra snake, the inland taipan is usually quite shy. It is known to only strike when it is provoked or mishandled, so the strike on Chetcuti comes as a surprise to some.
In 2013, a 17-year-old male was bitten by an inland taipan in New South Wales, but he eventually recovered from the attack.
Following the bite, Hunter Valley snake catcher Judy Martin kept the snake and said they're usually very docile. "They are a very placid snake, they rarely bite," she said, according to news.com.au.