SpaceX Falcon 9 Rocket Launch Resets Following Snag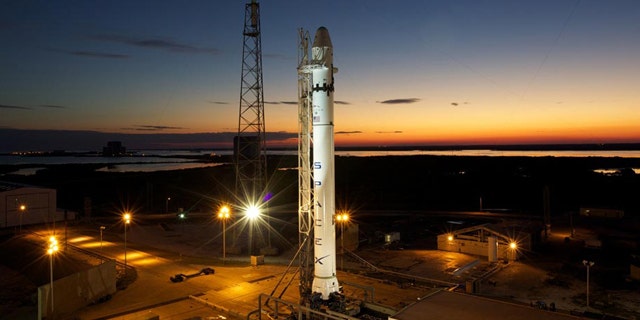 NEWYou can now listen to Fox News articles!
Following a few hours delay, SpaceX's Falcon 9 rocket, one of an emerging class of private rockets intended to take the U.S. space program into the 21st century, finally tried to launch -- and aborted.
The private two-stage booster rocket, which was scheduled for launch at 11 a.m. EDT (1500 GMT) from Florida's Cape Canaveral Air Force Station, would have put oomph into President Barack Obama's plan to overhaul NASA by using commercial firms to send crew and cargo to the International Space Station.
But the rocket appeared to go into a safety-shutdown mode at 1:33 p.m. as the first launch was attempted. The company reported that the abort occurred following "involved an out-of-limit startup parameter"; the company plans another launch attempt for 2:45 p.m.
Following launch errors, the Falcon 9 rocket is designed to put itself into "safe mode," and the fact that this happened indicated that the shutdown was in fact a successful test of the system, proving that safety mechanisms designed to prevent a disaster were working as designed.
"100 percent success would be reaching orbit," SpaceX founder and CEO Elon Musk told reporters during a Thursday teleconference. "Given that this is a test flight, whatever percentage of getting to orbit we achieve would still be considered a good day. If just the first stage functions correctly, it's a good day. It's a great day if both stages function."
The launch incident followed a series of delays. First came a problem with the telemetry system, which enables the launch team to track the rocket from afar. SpaceX was able to resolve that issue by moving a strongback structure on the launch pad that was blocking the signal, reported Space.com.

Then, word came from the U.S. Air Force that a boat had strayed into the safety range on the Atlantic Ocean over which the Falcon 9 rocket would fly during its trip to space. The liftoff was further delayed to allow time for the boat to be cleared away to safety.
SpaceX has a $1.6 billion contract with NASA to deliver 20 tons of cargo to the International Space Station over 12 Dragon flights through 2016.
The company plans to offer Falcon 9 rocket flights at prices ranging between $45 million and $52 million. To date, the Hawthorne, Calif.-based company has invested about $400 million in its Falcon rockets (including the smaller Falcon 1) and the Dragon spacecraft, Musk said.
Falcon 9 working correctly right out of the box was not likely, observed Tim Pickens, a commercial space advisor for the Huntsville, Ala.-based Dynetics and also the senior propulsion engineer for the company, speaking before the failure of the initial test launch.
"I don't think a first-launch failure is the end of the world," Pickens said. "This is the launch business .. .and I'm rooting for these talented guys."
Pickens said that what SpaceX has on his side is history -- a history of booster development over the decades that provide many lessons learned. Still, given the complexity of the Falcon 9, he said, there's likely to be more lessons to be learned lurking within the booster.
"The key thing is that there's enough instrumentation onboard. If something does happen, they can correctly fix it," Pickens had said before the launch. "The biggest fear is not having the data to support whatever failure mode you did have ... which could mean you end up in a pretty lengthy investigation."
Musk has said the first Falcon 9 rocket has about a 70 or 80 percent chance of success for its debut, but SpaceX can survive if it fails. A second Falcon 9 rocket is already being prepared for a follow-up test later this summer.
Space.com contributed to this report.