Space Shuttle Endeavour stops in Houston en route to California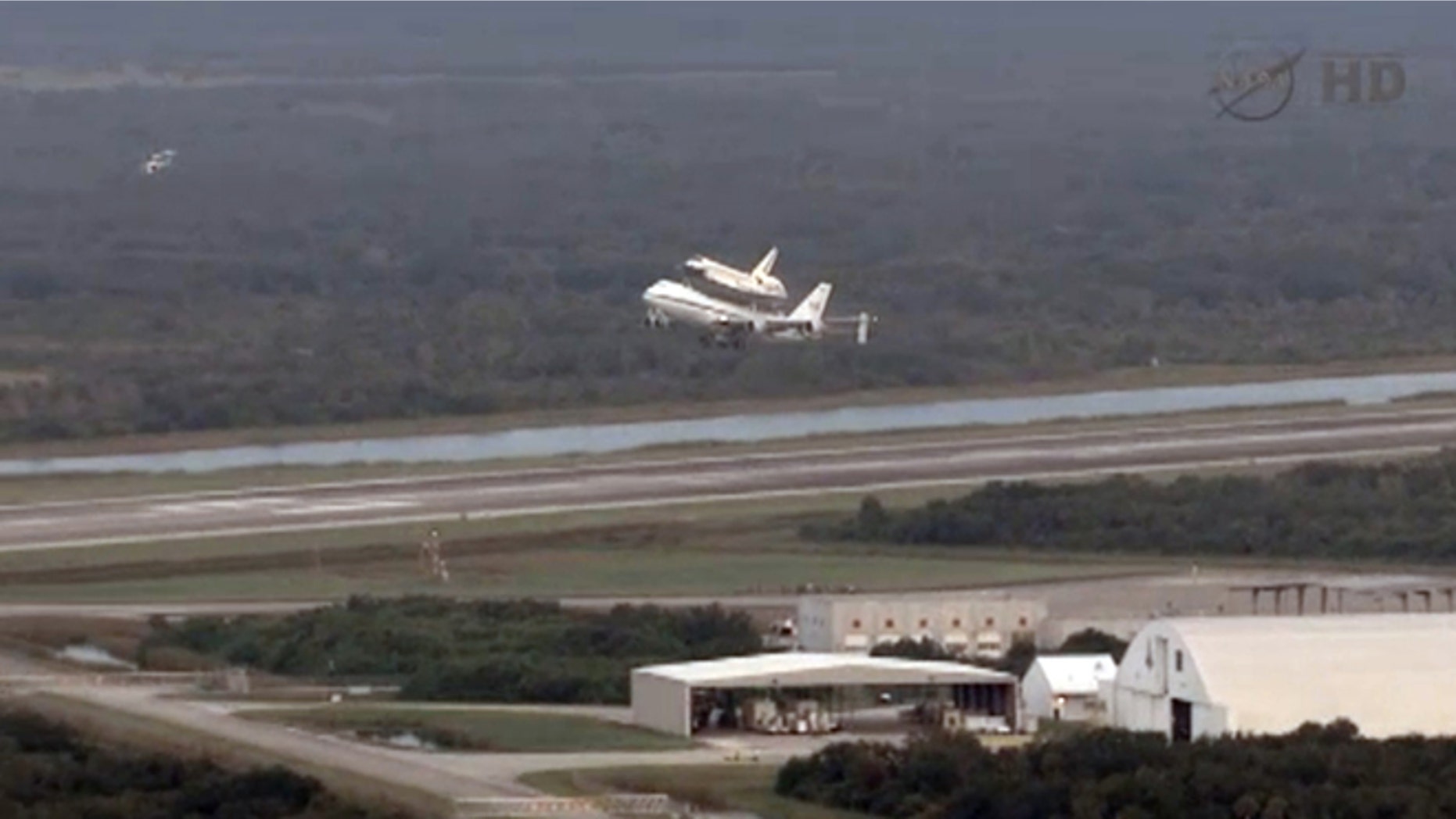 HOUSTON – The space shuttle Endeavour is scheduled to leave Houston early Thursday after giving locals a brief glimpse of what might have been.
Hundreds lined the streets and crowded the airport Wednesday to see the retired shuttle land before it was to head to California where it will be permanently displayed, a fact that doesn't sit well with many Houston residents who feel Space City was cheated out of an artifact that should have been theirs to keep.
"I think that it's the worst thing that they can do, rotten all the way," said 84-year-old Mary Weiss, clinging to her walker just before Endeavour landed after flying low over Gulf Coast towns, New Orleans and then downtown Houston and its airports.
Space City, partly made famous by Tom Hanks when he uttered the line "Houston, we have a problem" in the movie "Apollo 13," has long tied its fortune to a mix of oil and NASA. Astronauts train in the humid, mosquito-ridden city, and many call it home years after they retire. The Johnson Space Center and an adjacent museum hug Galveston Bay.
Houston's bid for a shuttle was rejected after the White House retired the fleet last summer to spend more time and money on reaching destinations, such as Mars and asteroids. Instead, Houston got a replica that used to be displayed at the Kennedy Space Center.
"The one we're getting is a toy. An important toy, but a toy nonetheless," said Scott Rush, 54, of Crystal Beach, Texas.
Still, people came out in droves Wednesday, waving American flags and toting space shuttle toys, cameras and cellphones.
Back-to-back delays in the ferry flight resulted in one day being cut from the Houston visit. After landing, the Endeavour rolled slowly in front of the cheering crowd. It circled and preened like a runway model, giving awed spectators an opportunity to take pictures from a variety of angles.
"I want to go on it," said 3-year-old Joshua Lee as he headed to the landing area with his mother and grandmother.
Joshua's mother, Jacqueline Lee of Houston, viewed the landing as an educational opportunity.
"I don't know if he'll get to see this again," Lee said.
Around sunrise Thursday, the shuttle was scheduled to leave Houston, riding piggyback on a jumbo jet. It's booked to stop at Biggs Army Airfield in El Paso, Texas, before heading to NASA's Dryden Flight Research Center, Calif. After spending a night there, the shuttle will head to Los Angeles International Airport on Friday.
In mid-October, Endeavour will be transported down city streets to the California Science Center, its permanent home.
NASA still plays a large role in Houston, and astronaut Clayton Anderson, who lived on the International Space Station from June to November 2007, encouraged people to focus on a new era of space exploration.
"The shuttles are a wonderful legacy, a huge part of Houston, but now it's time to look to the future," said Anderson, who lives in the Houston suburb of League City.
This is the last flight for a space shuttle. Atlantis will remain at Kennedy for display, and Discovery is already at the Smithsonian Institution, parked at a hangar in Virginia since April.
Endeavour -- the replacement for the destroyed Challenger shuttle -- made its debut in 1992 and flew 25 times before it was retired. It logged 123 million miles in space and circled Earth nearly 4,700 times.