Space Invaders Take Over California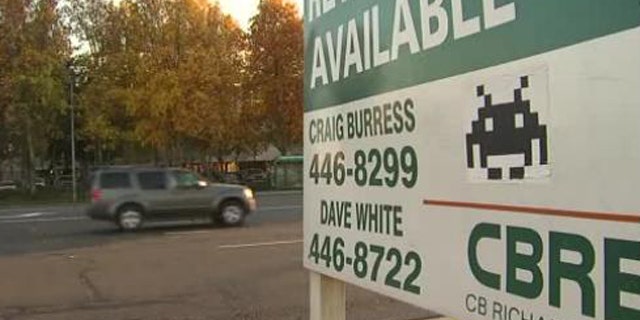 NEWYou can now listen to Fox News articles!
The latest graffiti to splatter itself across the stores, buildings, and street signs in Elk Grove, Calif., comes not from a can of Krylon spray paint or a day-glow marker but from an Atari 2600.
Images of Space Invaders, the relentless 8-bit animations from the classic 1980s arcade game, are being adhered all over the city reported Fox40 News. The iconic aliens are cropping up all over town , including local store signs. But they aren't always resonating with observers.
"I don't know what they are or what they are about. Hopefully you guys can give me some info on them," said the manager of area restaurant Hometown Buffet, when a reporter pointed out the alien on his sign.
Fox40's weatherman Dennis Shanahan -- and resident video game buff -- had a strong memory of the old Atari 2600 video game.
"It's the sound when they go across. Dun-dun-dun-dun. And then the fewer they are, the faster they go," Shanahan told Fox40 News.
Space Invader is also the name chosen by a French street artist.
"I can see my work in the streets of the city, it's fantastic," said 'Space Invader' in a documentary titled Exit Through The Gift Shop.
Space Invader's art is all about hanging tiled images from old arcade games on buildings and walls. The Space Invaders in Elk Grove are likely a homage, however: In April of this year police arrested a man they believe is Space Invader in Los Angeles.
For more information on California's newest space invaders, see the full story on Fox40 News.