Space 'dumpling' rendezvous: Japan's Hayabusa 2 spacecraft arrives at asteroid Ryugu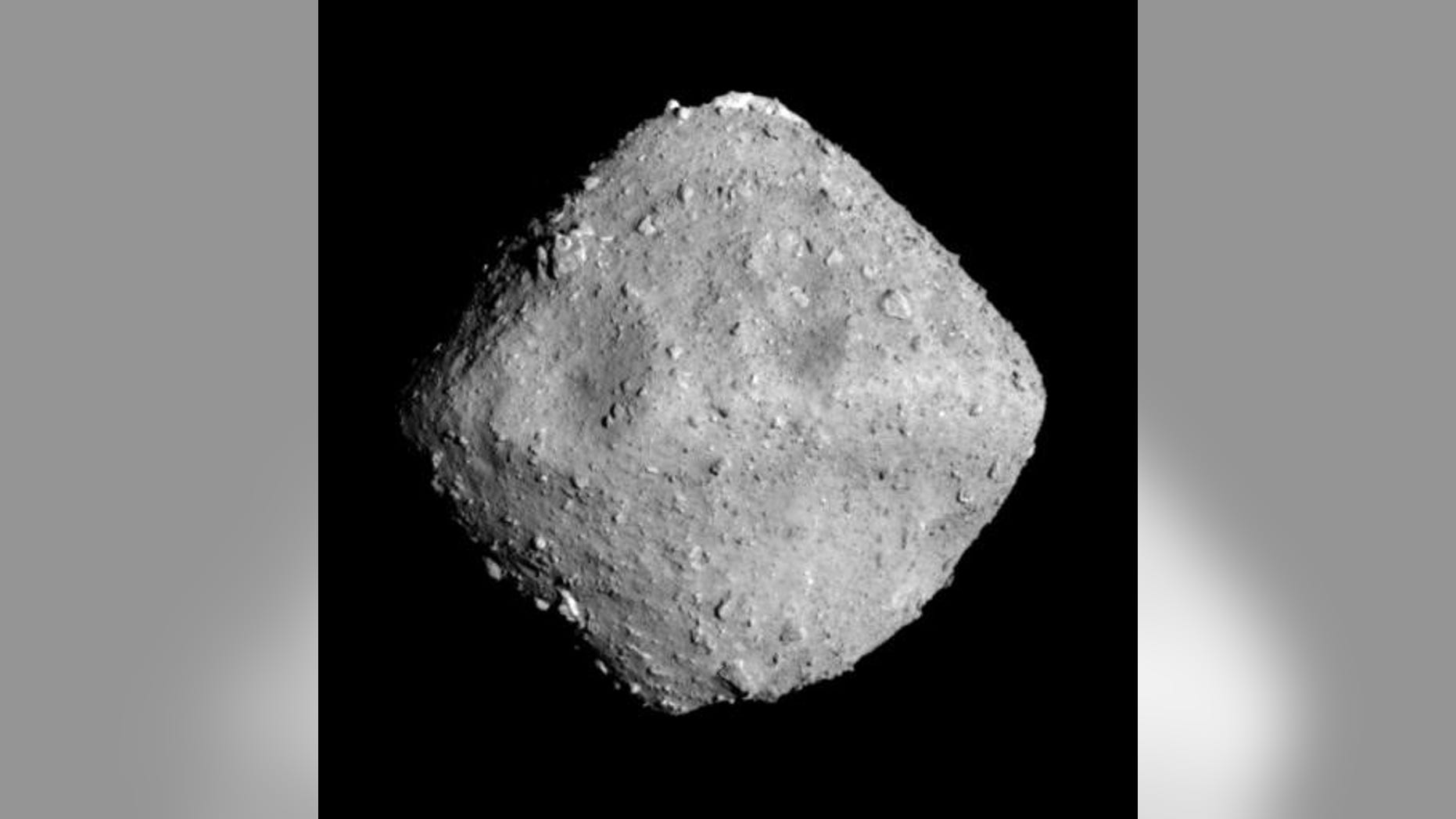 After a journey of almost 2 billion miles, Japan's Hayabusa 2 spacecraft has arrived at asteroid Ryugu.
The spacecraft made its rendezvous with the space rock, which has been compared to a "dumpling," on Wednesday. The distance between Hayabusa 2 and Ryugu is about 12.4 miles, the Japan Aerospace Exploration Agency (JAXA) said, in a statement.
"Hayabusa2 is able to maintain a constant distance to asteroid Ryugu," the agency added, noting that the spacecraft's status is "normal."
SPACE 'DUMPLING' LOOMS INTO VIEW AS SPACECRAFT PREPARES FOR ASTEROID RENDEZVOUS
Launched on Dec. 3, 2014, Hayabusa 2's goal is to retrieve samples from Ryugu.
"From this point, we are planning to conduct exploratory activities in the vicinity of the asteroid, including scientific observation of asteroid Ryugu and surveying the asteroid for sample collection," JAXA added in its statement.
During its 18-month survey of Ryugu, Hayabusa 2 will deploy a lander and three small rovers to take samples of the asteroid, according to New Atlas.
AN ASTEROID TURNED INTO A BLAZING FIREBALL OVER AFRICA LAST WEEKEND
In a tweet earlier this month, JAXA compared Ryugu's shape to a "dango" or Japanese sweet dumpling.
Hayabusa 2 is expected to leave Ryugu at the end of 2019 and return to Earth around the end of 2020.
The mission's MASCOT (Mobile Asteroid Surface Scout) lander was developed by the German Aerospace Center (DLR) and the French space agency (CNES).
DINO-KILLING ASTEROID IMPACT WARMED EARTH'S CLIMATE FOR 100,000 YEARS
The spacecraft is the successor to JAXA's Hayabusa, which landed on asteroid Itokawa in November 2005. Despite being dogged with problems, the mission collected a number of asteroid samples, which returned to Earth with Hayabusa in June 2010.
NASA is also on a mission to retrieve an asteroid sample. The space agency's OSIRIS-REx spacecraft launched on Sept. 8, 2016, from Cape Canaveral Air Force Station on a journey to near-Earth asteroid Bennu. On Aug. 17, 2018 the spacecraft will see Bennu with its Polycam imager from a distance of 2 million kilometers (1.2 million miles), marking the start of the mission's approach phase. OSIRIS-Rex is expected to arrive at Bennu on Dec. 3, 2018 and start surveying the space rock.
The spacecraft will return its asteroid sample to Earth in 2023.
Follow James Rogers on Twitter @jamesjrogers