Solar Impulse 2 lands in Japan, waits out bad weather on epic journey across Pacific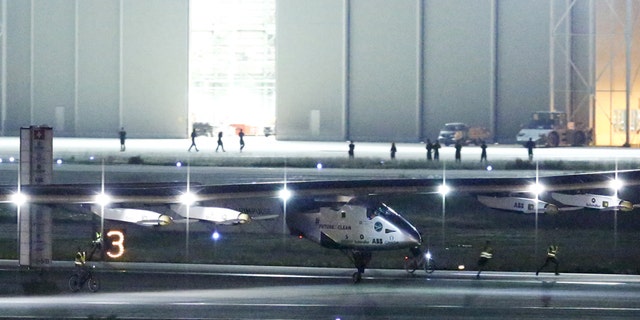 NEWYou can now listen to Fox News articles!
Solar Impulse 2 has landed in Nagoya, Japan, as the solar-powered plane prepares to wait out a spell of bad weather on its epic flight across the Pacific.
Swiss pilot Andre Borschberg took off from Nanjing, China, on Sunday on what was to be the longest leg of Solar Impulse 2's daunting round-the-world journey - a five-day, 5,079-mile flight to Hawaii.
However, a bad weather pattern forced the unplanned landing in Japan.
The Solar Impulse team tweeted that Borschberg landed at Nagoya shortly before 11 a.m. ET Monday.
Solar Impulse 2, a larger version of a single-seat prototype that first flew five years ago, is made of carbon fiber and has 17,248 solar cells built into the wing that supply the plane with renewable energy, via four motors. The solar cells recharge four lithium polymer batteries, which provide power for night flying.
The plane has a 236-foot wingspan, larger than that of the Boeing 747, but, thanks to the lightweight carbon fiber, weighs about as much as a car at around 5,070 pounds.
The Associated Press contributed to this report.