Shuttle Atlantis Leaves Space Station, Headed Home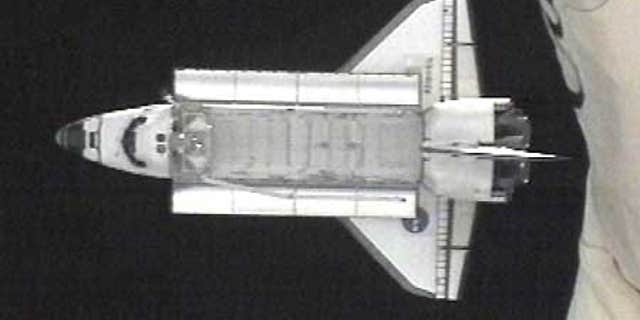 NEWYou can now listen to Fox News articles!
CAPE CANAVERAL, Fla. — Shuttle Atlantis undocked from the International Space Station early Wednesday, headed home with one astronaut eager to hold his newborn daughter for the first time and another who's been away from her young son since the summer.
The shuttle departed as the spacecraft soared nearly 220 miles above the Pacific, just northeast of New Guinea. Over the past week, the astronauts stockpiled the outpost and performed maintenance that should keep it running for another five to 10 years.
Atlantis is scheduled to land Friday morning at NASA's spaceport in Florida.
Astronaut Nicole Stott, on her way home after three months in orbit, said goodbye to the five colleagues she left behind on the space station.
• SLIDESHOW: Atlantis astronauts go for a spacewalk
• SLIDESHOW: Space Shuttle Atlantis mission in pictures
"It was a real pleasure working with you guys," she radioed. "I was blessed with a wonderful crew, and I look forward to seeing you guys on the ground real soon."
"We'll miss you," said fellow American astronaut Jeffrey Williams, who's just two months into a six-month mission. A Belgian on board who will be leaving the space station next week in a Russian capsule told Stott to take care. "Have a safe trip home," Frank De Winne said.
Wednesday was the 89th day in space for Stott, a 47-year-old engineer. She flew to the space station at the end of August. She said she can't wait to see her husband and 7-year-old son, and to have a pizza.
Spaceman Randolph Bresnik is also eager to get back. His wife gave birth to their second child, Abigail Mae Bresnik, on Saturday in Houston — shortly after his first spacewalk.
The shuttle astronauts must take one final survey of the wings and nose of their ship Wednesday using a 100-foot, laser-tipped inspection boom. They need to make sure the vulnerable thermal shielding was not damaged by micrometeorites over the past week.
Atlantis' cargo bay — brimming with big spare parts when it arrived at the space station last Wednesday — was empty. The astronauts installed some of the equipment during three spacewalks and performed other work to keep the station operating long after the retirement of NASA's three shuttles next fall.
The next shuttle visit, by Endeavour, is in February.