Shipwreck secrets revealed: Cannons, anchor from treasure-laden wreck discovered
Divers in the U.K. have uncovered more fascinating artifacts from a treasure-laden ship that sank in the late 17th century.
Described as one of Britain's richest wrecks, the merchant ship President was carrying a cargo of diamonds and pearls from India when she sank during a storm in February 1684.
Initial remains of the ship, which sank within sight of land off the Cornwall coast, were discovered in 1988 and 1989 when 17 cannons and an anchor were found.
Divers have now discovered 7 more of the ship's cannons and another anchor, helping them piece together more details of the ship's final moments. The President had a total of 36 cannons.
SHIPWRECK MYSTERY SOLVED THANKS TO 800-YEAR-OLD 'MADE IN CHINA' LABEL
None of the 23 cannons that have been found have been raised from the seabed.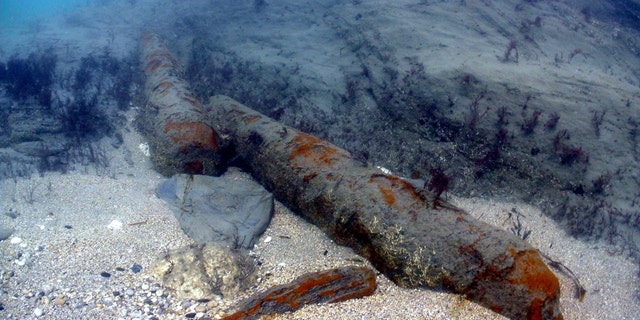 "We found a new part of the site – we think it's an important key," Mark Milburn, cofounder of Cornwall Maritime Archaeology, who participated in the latest dive, told Fox News. "What we found was [in] shallow [water] – I would assume that the ship hit the rock in shallow water and drifted off."
The area where the ship sank is a notorious shingle bar called Loe Bar. SNWS reports that recent storms likely shifted the sands of Loe Bar, revealing the artifacts to Milburn and Cornwall Maritime Archaeology co-founder David Gibbins.
After hitting a rock, the ship likely drifted to the area where the 17 cannons and anchor were found 20 years ago, according to Milburn. "We have probably got the start of the trail, what they found before was the middle of the trail," he said, noting that the remaining cannons, and potentially, other items from the ship, are still to be found. "What we have to find is the end of the trail."
MH370 SEARCH DISCOVERS SHIPWRECKS, OFFERS CLUES TO 19TH-CENTURY MARITIME MYSTERIES
So, is it likely that treasure will be found?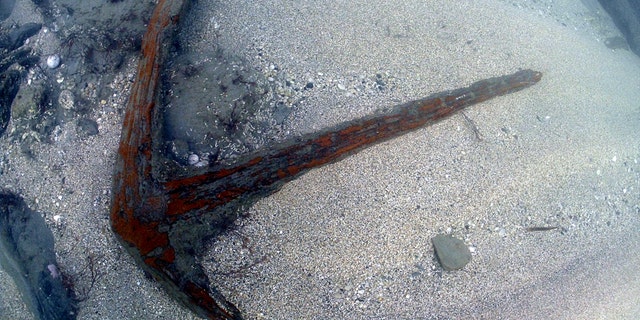 Milburn, who estimates that the ship was carrying cargo worth 8 million U.K. pounds in modern money, ($10.7 million) says that finding the jewels will not be easy. "It really is a needle in a haystack – it's a shingle bar, it's a fluid environment," he explained.
Even spotting the treasure would present a major challenge to divers. "Diamonds in water are transparent, pearls would look like shingle, we have billions of tons of shingle that are moving all the time," Milburn explained.
However, there is a chance that other items may be near the ship's cannons. "When we find cannons, we're quite excited because, if we're allowed to excavate around them, there will be 'concretions' of items near the cannon from when the ship sank," he said.
Concretions occur when an iron object corrodes in water, causing a reaction that forms sand and other nearby items into a dense layer around the object. "Anything around that [iron object] gets absorbed into its presence," Milburn added.
WRECK OF WWII SHIP DISCOVERED 74 YEARS AFTER IT DISAPPEARED DURING A RESCUE MISSION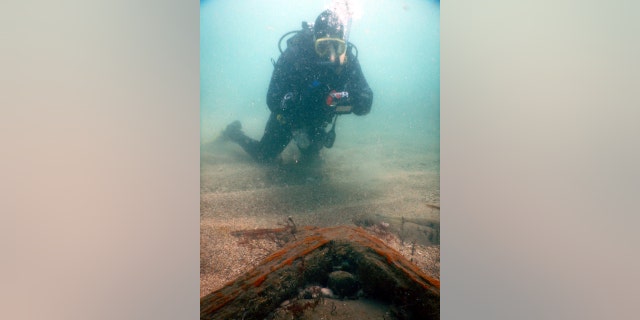 President's sinking was a tragic end to a highly eventful voyage. The ship's crew had already survived a battle with pirates off India's Malabar Coast during her voyage home, as well as near starvation. After the devastating storm that sank the East India Company ship, only two of President's 120 crew members made it back to England.
The survivors' accounts of the ship's final voyage were revealed in a pamphlet published a few months after President's sinking.
Milburn, who is also the owner of Atlantic Scuba, told Fox News that he will be visiting the wreck site again. "We have to wait for the right time in the weather," he said.
Follow James Rogers on Twitter @jamesjrogers