Shatner helps NASA rover to boldly go to Mars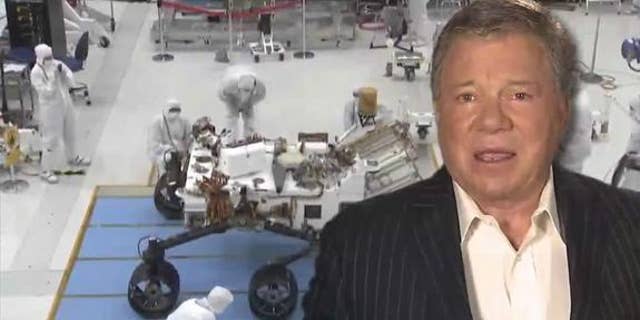 NEWYou can now listen to Fox News articles!
A NASA rover is preparing to boldly go to the surface of Mars -- and the landing has been explained in a video by original Star Trek actor William Shatner.
The Curiosity rover is set to land on Mars next Monday, and Shatner and fellow Trekkie Wil Wheaton have each made a video explaining NASA's hardest planetary science mission to date. The videos, called Grand Entrance, guide viewers through Curiosity's planned entry and descent to the surface of the red planet.
They are being shared on the Internet and social media, and NASA's aim is to raise public awareness about the mission and the landing.
Shatner played Captain James T. Kirk in "Star Trek," while Wheaton portrayed Wesley Crusher in "Star Trek: The Next Generation." NASA said the pair provided their own unique narration to the videos, allowing a wider range of audience to be reached.
[pullquote]
Shatner remains a pop culture phenomenon with more than 50 years of stage, television and film experience, while Wheaton is not only an actor but a writer who possesses a huge social media fan base.
"Shatner and Wheaton are mavericks in inspiring film, TV and social media audiences about space," said NASA multimedia spokesman Bert Ulrich.
"NASA is thrilled to have them explain a difficult landing sequence in accessible terms that can be understood by many. Thanks to their generous support, Mars exploration will reach Tweeters, Trekkies and beyond!"
After a successful launch in November 2011, Curiosity is close to reaching its destination on the Martian surface, but the process from entering the atmosphere to landing safely is no easy task. Curiosity has seven minutes to go from 13,000 mph to a soft landing. If a single step is unsuccessful, the mission could fail. This process has been dubbed as the "seven minutes of terror."
The rover has a set of tools at the end of its extendable arm that can study rocks up close.
A drill can collect sample material from inside of rocks and a scoop can pick up samples of soil. The arm can then sieve the samples and deliver fine powder to instruments inside the rover for a thorough analysis.
Shatner and NASA have worked together before, notably in March 2011, when the Space shuttle Discovery's crew started their last day at the International Space Station with a special wake-up call.
They were played the theme from Star Trek on what was Discovery's final mission. As a bonus, Shatner recorded a special introduction to the tune.
Paraphrasing his monologue from the original Star Trek, he said: "Space, the final frontier. These have been the voyages of the Space Shuttle Discovery.
"Her 30-year mission to seek out new science, to build new outposts, to bring nations together on the final frontier -- to boldly go, and do, what no spacecraft has done before."