Shark's sudden U-turn 'could mean something big'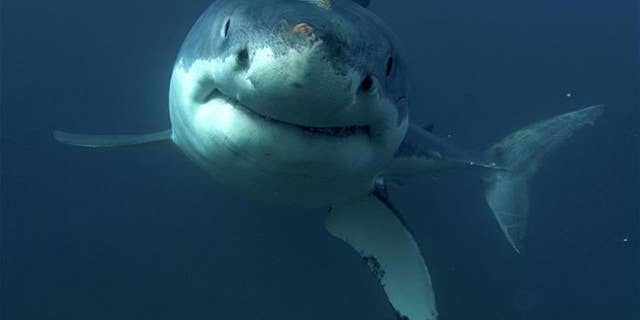 We can't exactly give EPT tests to sharks in the wild to find out if they're pregnant, but scientists think there may be another clue. Shark-tracking group OCEARCH tells the News & Observer it's been following a great white named Miss Costa, and the nearly 1,700-pound fish recently made a navigational move that the organization has observed in other great whites.
As a map on Twitter shows, Miss Costa has been traveling up and down the Eastern Seaboard over the past few weeks, most recently sticking close to the shoreline of the Carolinas as she headed north.
Suddenly last week, however, she made a sharp turn to the right, then a complete U-turn, into deeper waters, which OCEARCH says "could mean something big." "It's a move we've tracked other mature females make," OCEARCH tells the News & Observer.
"We suspect it means they are gestating." Part of the reason OCEARCH has to use the word "suspect" is that little is actually known about shark reproduction.
Great whites, which National Geographic have deemed a "mystery," reproduce every two to three years, but a birth has never been observed in the wild.
On its Facebook page, the organization notes another possibility: Miss Costa "could simply be taking a unique route back to Nantucket." No matter the result, "we're excited to find out what happens," the group adds.
(We may not have ever seen great whites mate or give birth, but a Shark Week team says it caught footage of one napping.)
This article originally appeared on Newser: Shark's Sudden U-Turn 'Could Mean Something Big'