Sea turtle found entangled in cocaine bales worth $53M, Coast Guard says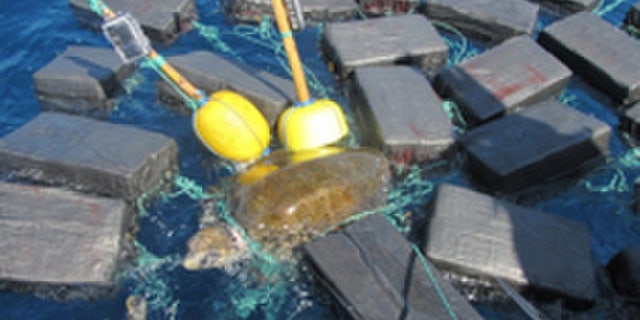 A sea turtle was rescued after a boat crew found it entangled in bales of cocaine worth $53 million, the U.S. Coast Guard said.
The crew of the cutter Thetis encountered the loggerhead turtle in the eastern Pacific during a 68-day mission, the Coast Guard said on Tuesday.
LOUD FISH ORGIES COULD MAKE DOLPHINS DEAF, SCIENTISTS SAY
"Coast Guard Ens. Mark Krebs, the pursuit mission commander, said that as his team arrived on scene with the jettison field, they immediately noticed the entangled sea turtle," the Coast Guard said in a statement. "They saw significant chaffing from the lines on his neck and flippers."
The boat crew worked to free the sea turtle and seized 1,800 pounds of cocaine — worth $53 million.
The cutter crew was part of Operation Martillo that targeted criminal organizations involving 18 countries. The crew seized 14,800 pounds of cocaine and 14 pounds of marijuana by the time it returned to the Key West port on Sunday, according to the news release.