Scientists discover 15 new planets, including 'super-Earth' that could harbor liquid water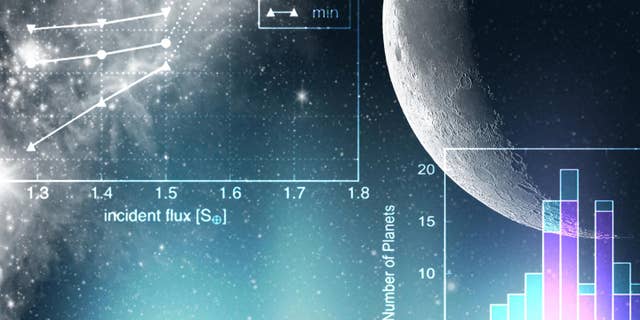 NEWYou can now listen to Fox News articles!
Scientists have discovered 15 new planets, including a "super-Earth" that may have liquid water on its surface.
The planets are orbiting small, cool stars near our solar system that are known as "Red Dwarfs."
One of the brightest Red Dwarfs, K2-155, has three "super-Earths," one of which, K2-155d, could be within the star's habitable zone. K2-155d, which has a radius 1.6 times that of Earth, may harbor liquid water, according to three-dimensional global climate simulations.
MAJOR SOLAR STORMS WON'T HIT EARTH THIS WEEK, NOAA SAYS
K2-155 is about 200 light-years from Earth. A light-year, which measures distance in space, equals 6 trillion miles.
The research also indicates that planets orbiting red dwarfs may be remarkably similar to planets orbiting stars that resemble the Sun, known as solar-type stars.
"It's important to note that the number of planets around red dwarfs is much smaller than the number around solar-type stars," said Teruyuki Hirano of Tokyo Institute of Technology's Department of Earth and Planetary Sciences, who led the research, in a statement. "Red dwarf systems, especially coolest red dwarfs, are just beginning to be investigated, so they are very exciting targets for future exoplanet research."
However, Hirano voiced caution about the conditions on K2-155d. "In our simulations, the atmosphere and the composition of the planet were assumed to be Earth-like, and there's no guarantee that this is the case," he said.
ALIEN LIFE LOOMS? NEWLY DISCOVERED EXOPLANET MAY BE BEST CANDIDATE, EXPERTS SAY
More research on K2-155d's temperature and radius is needed to confirm whether the planet is indeed habitable.
Scientists based their research on data from K2, the second mission of NASA's Kepler spacecraft. Follow-up observations were made by the Subaru telescope in Hawaii and the Nordic Optical Telescope (NOT) in Spain.
The findings are published in two papers in The Astronomical Journal.
PLANETS IN GALAXIES BEYOND MILKY WAY SPOTTED FOR FIRST TIME
The find is the latest in a host of new planet discoveries. In February 2017, an international team of astronomers announced the discovery of 60 new planets orbiting stars close to Earth's Solar System, including a rocky "super Earth."
In the same month, NASA revealed the discovery of seven Earth-like planets orbiting the star TRAPPIST-1 40 light years from Earth. Three of the planets are in the "habitable zone" where liquid water can exist, according to scientists.
Two months later, in a separate research project, scientists reported that an exoplanet 40 light-years from Earth may be the best place to look for signs of life outside our solar system.
ASTRONOMERS DISCOVER 60 NEW WORLDS, FIND 'SUPER EARTH'
Earlier this year, for the first time, scientists announced the discovery of planets in galaxies beyond the Milky Way.
Using data from NASA's Chandra X-ray observatory, a team of astrophysicists from the University of Oklahoma identified the extragalactic planets about 3.8 billion light-years away. The space observatory helped scientists find about 2,000 objects with comparable mass to the Moon and Jupiter.
Follow James Rogers on Twitter @jamesjrogers