Sailing to disaster: Rare Titanic photos up for auction
Two original unpublished photographs of Titanic departing on her ill-fated maiden voyage are up for auction.
The detailed images show the doomed liner leaving Southampton Harbor in the U.K. on April 10, 1912 with tugs and other vessels clearly in view. The photos, which measure 4 inches x 5 inches, are both captioned by hand.
"These photographs represent previously unknown and unique images of Titanic as she left Southampton," Henry Aldridge & Son auctioneer Andrew Aldridge told Fox News, via email. "They are close and clear enough to count the portholes and to see the shadow cast by the stern in the water."
DID THIS ICEBERG SINK THE TITANIC?
Titanic hit an iceberg at 11:40 p.m. ship's time on April 14, 1912 and sank just over two hours later with the loss of more than 1,500 lives.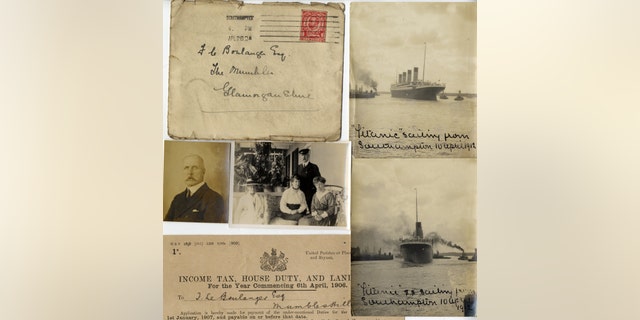 Aldridge explained that the photos were sent from Southampton to Francis Le Boulanger, a wealthy ship owner, ship broker and coal exporter, who lived in South Wales. "It is quite possible he may have been involved in the provision of coal to the ship," Aldridge said. "Since the recipient of the photos was important in the ship industry, the photos may have been taken by one of his associates."
The lot also includes the original mailing envelope postmarked from Southampton on April 26 1912, personal papers of the Le Boulanger family, as well as a photo of Mr Le Boulanger. Another photo shows Le Boulanger's wife in a group of three well-dressed women.
TITANIC TREASURES SOLD AT UK AUCTION
The lot, which will be auctioned Saturday, has a pre-sale estimate of $10,534 to $15,801.
An extremely rare sea-stained letter recovered from the body of a Titanic victim will also be auctioned by Henry Aldridge & Son on Saturday. The letter was written on embossed Titanic stationery by First Class passenger Alexander Oskar Holverson to his mother on April 13, 1912.
TRAGIC TITANIC LETTER SURFACES: VICTIM'S SEA-STAINED NOTE UP FOR AUCTION
Holverson was among the victims of the disaster. The letter, which he clearly planned to mail on the Titanic's arrival in New York, was apparently found in a pocket book when Holverson's body was recovered from the Atlantic. It was eventually returned to his family with his other effects.
The lot has a pre-sale estimate of $79,031 to $105,375.
A number of artifacts from the doomed ship were auctioned in the U.K. last year, with the sextant used by the captain of rescue ship Carpathia selling for just under $97,000. Three photos and a handwritten note detailing the grisly discovery of Titanic's last lifeboat were sold for $6,800.
Follow James Rogers on Twitter @jamesjrogers