Russian Rocket Places First Galileo GPS Satellites in Orbit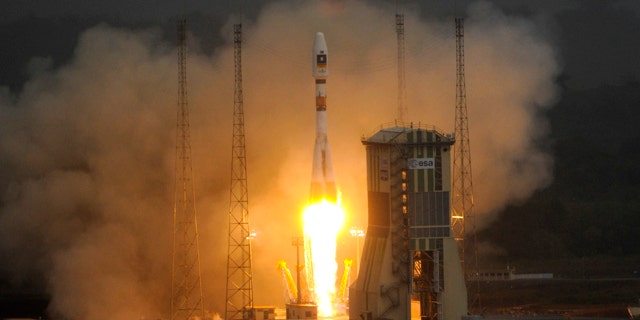 NEWYou can now listen to Fox News articles!
KOUROU, French Guiana – A Russian rocket placed in orbit Friday the first two satellites in the Galileo geopositioning system after making its maiden launch from a European space base in French Guiana, mission controllers said.
Flight managers applauded loudly as the two satellites were deployed in space, nearly four hours after the veteran Soyuz rocket lifted off from Kourou.
"This is the story of Europe, which succeeds and knows how to cooperate," according to Jean-Yves Le Gall, chief executive of Arianespace. "What a road we have traveled."
The launch -- the first by the veteran rocket beyond Russia's historic bases at Plesetsk and Baikonur -- is part of a commercial deal struck in 2003 to extend the range of Arianespace, which markets services from the European Space Agency base in Kourou.
The €5.4 billion ($7.4 billion) Galileo project is designed to comprise 27 operational satellites and three spares by its completion in 2020.
It should give geopositioning accuracy to within a meter (3.25 feet), whereas the US Global Positioning System is currently accurate to between three and eight meters (10 and 26 feet), according to official websites.