Russia postpones two manned launches to International Space Station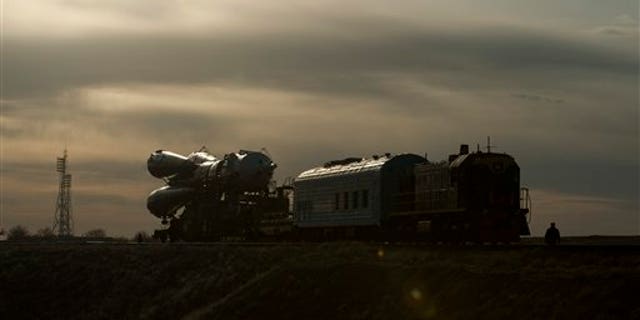 NEWYou can now listen to Fox News articles!
MOSCOW – Worrisome cracks in its spacecraft have forced Russia to postpone two manned launches to the International Space Station (ISS), the Interfax news agency reported Friday -- echoing a 2011 situation that left the country's space transport vehicles grounded and led to speculation that scientists may be forced to abandon the orbiting space base.
Six astronauts are currently aboard the ISS as members of Expedition 30, including two Americans: Commander Dan Burbank and Flight Engineer Don Pettit. Burbank, who has been in space since Nov. 16, was set to return from the station on a March 30 flight that will be postponed until mid-April or the first half of May.
It's too early to say what sort of impact the delay could have on the current space station crew, NASA spokeswoman Kylie Clem told FoxNews.com, but current crew should be fine.
"There is plenty of margin for the current space station crew to stay onboard longer, if necessary, and plenty of margin in our manifest for upcoming launches," Clem said.
In addition, there are currently spacecraft docked at the station that can be used to transport astronauts back to Earth, she said.
"Each Soyuz that flies to the space station delivers three resident crew members," Clem told FoxNews.com. "That same vehicle stays docked and then brings them back to Earth at the end of the mission."
The postponement to future Soyuz lift-offs is needed because the Soyuz TMA-04M spaceship cracked after testing in a pressure chamber, Space.com reported -- very different issues from the malfunctioning gas generator that caused the August, 2011, grounding.
But the end result may be the same.
"This re-entry capsule now cannot be used for manned spaceflight," a source told the news agency.
Due to the delayed March 30 rocket, a second mission will also be delayed until the middle or end of June.
Since NASA scuttled the U.S. space shuttle program last year, Russia has sole responsibility for sending astronauts to the ISS, leading many to call for a back up means for sending humans to space. Russia's space program has been hit by a string of problems, notably the embarrassing failure of a Mars probe.
NASA has largely pinned its hopes for American spaceflight on private enterprise, especially the Dragon capsule built by Californian company Space Exploration Technologies (SpaceX).
Dragon was scheduled to launch on a historic flight to the space station on Feb. 7, which would have made it the first private vehicle to dock with the station. But SpaceX said Monday, Jan. 16, that it would postpone the flight to accommodate more engineering tests.
SpaceX is currently targeting 2014 for its first manned test flight, spokeswoman Kirstin Brost Grantham told FoxNews.com.
NASA is also moving toward the development of a Space Launch System -- a new heavy-lift vehicle that will eventually be able to carry humans beyond Earth's orbit in the Orion capsule, thanks to a unique new liquid hydrogen and liquid oxygen propulsion system.
The space agency has proposed an unmanned test flight of the Orion spacecraft in 2014.
An unmanned Russian resupply craft that launched successfully on Wednesday from the Baikonur Cosmodrome in Kazakhstan is set to dock with the International Space Station Friday evening. Loaded with 2.9 tons of food, fuel and equipment, Progress 46 will arrive at the station's Pirs docking compartment on Friday at 7:08 p.m. EST.
The Republican candidates for president clashed over the future of U.S. space exploration plans at a debate in Florida Thursday night. Newt Gingrich recently declared his goal of a manned moon base by 2020 to reassert American dominance in space. The other three candidates dismissed his proposals as expensive and overreaching.
Newscore contributed to this report.