Retired Army general catches 877-pound bluefin tuna, breaks state record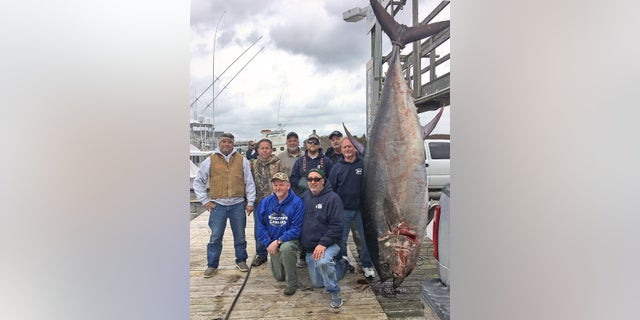 NEWYou can now listen to Fox News articles!
A Delaware man reeled in a massive, 877-pound bluefin tuna on March 17 -- and ultimately set a new record for bluefin tuna in North Carolina, the state's Division of Marine Fisheries announced on Monday.
It took well over an hour for Scott Chambers, a retired Army general from Townsend, to reel in the fish off of the Oregon Inlet, which is located just off of North Carolina's coast.
Chambers told Fox News on Tuesday that he was staying at his home in the Outer Banks when he and some friends went fishing on the "A-Salt Weapon," a charter boat captained by Chambers' longtime friend and fisherman, Dennis Endee.
"That day, we hooked into that absolute monster," Chambers said. After finally landing the bluefin on the boat, the fishermen knew it was massive but weren't exactly sure of its size. But Chambers immediately recongnized that the bluefin was the biggest fish he'd ever caught -- it far outweighed a blue marlin he reeled in a few years back, he said.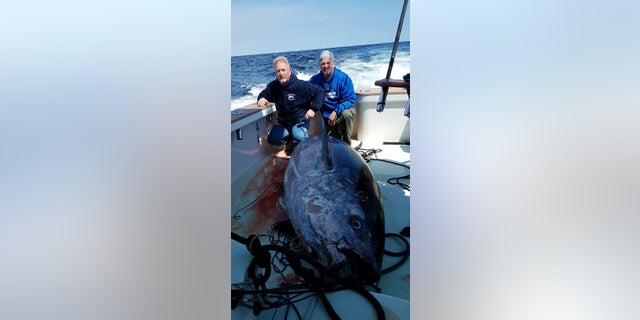 Once the fishermen arrived back at Pirate's Cove in Manteo, a crane was used to lift the fish off of the boat and onto a scale, which read a whopping 877 pounds.
"Everyone was in disbelief," Chambers said.
The fish measured 113 inches in length and was 79 inches around. The mammoth tuna broke the state record by 72 pounds, thus becoming the biggest bluefin catch on-record since 2011, according to the North Carolina Division of Marine Fisheries, which certified the record.
Still, Chambers' catch is a ways off from the 1979 world record. That year, a 1,496-pound bluefin was caught in Nova Scotia, according to the North Carolina Division of Marine Fisheries.
While the 55-year-old was excited about his catch, he was also ecstatic for Endee.
"To see the level excitement as captain of that boat -- I kept thinking: 'This is so cool for Dennis.'"
Since the catch, Chambers said he had given some of the bluefin's meat to friends. The rest, however, has been used by his wife to make fish tacos that are "absolutely sinful," he said.