Researchers work to free whale with jaw wrapped in fishing line for years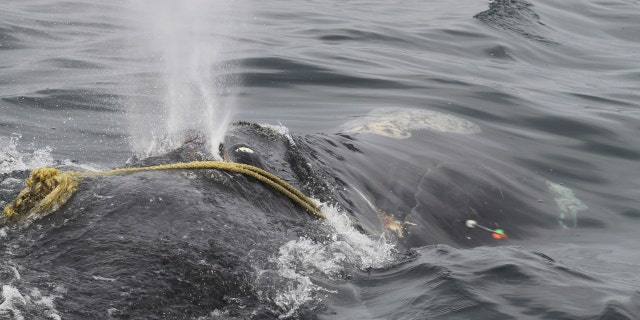 Researchers in Massachusetts are hopeful they'll finally be able to free an endangered North Atlantic right whale who has had a fishing line wrapped around her jaw for several years.
The adult female named "Kleenex" was first spotted in the Cape Cod Bay in 1977, but has had a fishing lined wrapped around her jaw for at least three years, according to the Cape Cod Times.
Researchers and scientists attempted to remove some of the line on Thursday by using a method to weaken and deteriorate the rope, since there was no trailing line and the whale couldn't be slowed to remove it.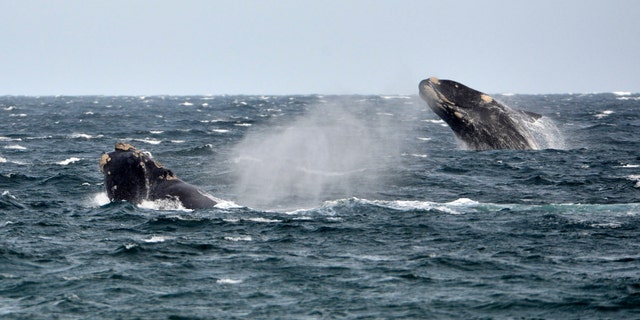 "For more than a half century, Kleenex has defied the odds of survival and been a pillar of the right whale's modest recovery," New England Aquarium spokesman Tony LaCasse said in a statement. "Let's hope that she sheds the entangling gear."
'BEGINNING OF THE END?' NO NEW BABIES FOR ENDANGERED WHALES
The whale is a great-grandmother to six calves, which is 5 percent of the North Atlantic right whale population. Right whales recorded no new births in this year's calving season, making preserving reproductive females extremely important to researchers.
As of now, the species has dwindled to no more than 450 animals, further strengthening conservation efforts. A total of 17 right whales washed up dead in the U.S. and Canada last year, far outpacing five births.
SPERM WHALE SWALLOWS 64 POUNDS OF TRASH, DIES OF 'GASTRIC SHOCK'
With no rebound in births this past winter, the overall population could shrink further in 2018. One right whale was found dead off the coast of Virginia in January.
Kleenex hasn't been seen since the disentanglement attempt, but that is typical of whale rescue efforts, Cathrine Macort, a spokeswoman for the Center for Coastal Studies in Provincetown, told the Associated Press. Macort said rescuers will keep looking for the whale so they can remove the gear.
The Associated Press contributed to this report.