Remains of mysterious Stone Age baby found cradled in mother's arm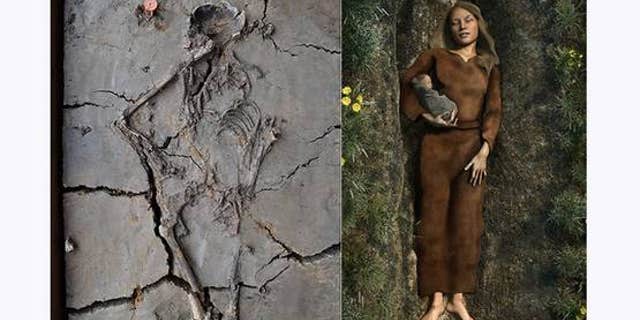 Archaeologists in Holland have found the 6,000-year-old remains of a baby cradled in the arm of the woman believed to be its mother.
The infant, which experts believe may have been a newborn or as old as 6 months at the time of its death, was found during an excavation in Nieuwegein by archaeological consultants BAAC and RAAP. The site is the oldest baby grave ever discovered in the country.
Buried under about 6.5 feet of clay and peat at what is now a modern business park, the touching find stunned archaeologists.
SPAIN CRACKS SECRET CODE ON KING FERDINAND'S MYSTERIOUS 500-YEAR-OLD MILITARY LETTERS
Experts were surprised to find the baby next to the remains of a young woman, who was aged between 20 and 30 at the time of her death. The woman's burial position, however, was unusual for the local region's neolithic Swifterbant culture. "It had already been noticed that the woman's left arm was right along her body, but that her right arm was bent," explained the township of Nieuwegein, in a statement translated from Dutch.
Bone fragments of a baby were discovered at the woman's right arm, including the skull, the jaw with teeth, the collarbone and a leg.
"This is a fantastic find," said BAAC archaeologist Kirsten Leijnse, in the statement. "Whether the baby (and perhaps the woman) died at birth, we are not sure yet."
MYSTERIOUS LOST MAYA CITIES DISCOVERED IN GUATEMALAN JUNGLE
DNA analysis will now be undertaken to determine whether the woman is indeed the baby's mother, and also find out the baby's gender.
Other projects around the world have grabbed headlines recently.
An international team of researchers in Israel recently discovered the earliest modern human fossil outside of Africa.
The fossil, an upper jawbone with several teeth, was found at Misliya Cave, one of a number of prehistoric caves on Mt. Carmel in northern Israel. Dated to between 175,000 and 200,000 years ago, the jawbone indicates that modern humans left the continent of Africa at least 50,000 years earlier than previously thought.
15TH-CENTURY MANUSCRIPT WITH 'ALIEN' CHARACTERS FINALLY DECODED
Archaeologists also recently announced the discovery of an ancient prince's tomb in southern Siberia that may contain treasures or even an ice mummy preserved in the region's frozen soil.
Follow James Rogers on Twitter @jamesjrogers