Rare whale-dolphin hybrid discovered in Hawaii, scientists say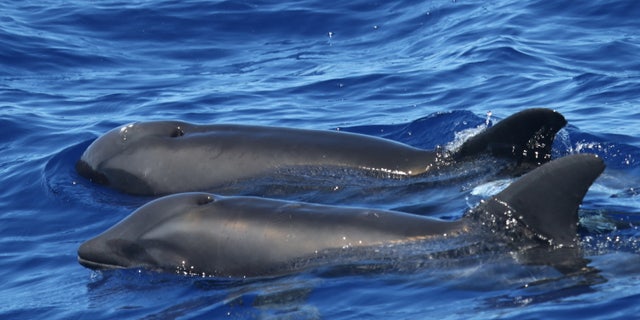 There's a new sea creature swimming in Hawaii waters, researchers with the Cascadia Research Collective recently confirmed: a whale-dolphin hybrid.
The discovery was first made by researchers with the collective last year, though the report detailing the hybrid -- the product of a melon-headed whale and a rough-toothed dolphin -- was released this week.
The hybrid was found by researchers with the Cascadia Research Collective during a two-week project in Kauai, Hawaii, in August 2017. It is believed to be the first-ever documented hybrid of its kind, Robin Baird, the project's head researcher, told Fox News in an email.
FLORIDA BEACHES LITTERED WITH DEAD SEA TURTLES; SCIENTISTS BLAME RED TIDE
"Hybrids among different species of whales and dolphins have been previously recorded, but this is the first case of a hybrid between these two species, and only the third confirmed case (with genetics) of a wild-born hybrid between two species in the family Delphinidae," or oceanic dolphins, Baird said.
Baird continued to explain that the "morphological appearance" of the animal promoted researchers to get a biopsy sample. Genetic testing later confirmed the suspicion that the animal was the whale-dolphin hybrid.
The hybrid was likely fathered by a rough-toothed dolphin while it's mother is believed to be a melon-headed whale. The latter is a rarity in Hawaii, The Garden-Island reported.
HUMPBACK WHALES LUNGE TOWARD CALIFORNIA TOUR BOAT IN SHOCKING VIDEO
"Such hybridization, where the genetic data of one species is integrated into another, has long been suspected as a source of taxonomic uncertainty in dolphins, and this case lends support to that," Baird added.
During the two-week project, scientists also encountered and tagged another rare sea creature, according to the report: pantropical spotted dolphins.
While Baird noted that the chances of finding the hybrid for a second time are slim, researchers will be returning to Kauai next month to further investigate the discovery.
"If we find it again, we'd like to try to get a biopsy sample of the melon-headed whale it was associated with as well as get underwater footage [and] images to better assess morphology," Baird said.