Rare two-headed snake discovered in backyard
NEWYou can now listen to Fox News articles!
A rare two-headed snake is being raised by a New Orleans family after its discovery in a backyard.
SWNS reports that wildlife educator Tanee Janusz, 39, adopted the western rat snake when a fellow member of her naturalist society found it in his garden.
The foot-long reptile, which is 10 months old, has two heads as a result of a genetic deformity affecting just one in 10,000 births. The animal has two brains but a single respiratory system, digestive tract and body, according to SWNS.
SCARY SURPRISE: VIDEO SHOWS SUPER DEADLY SNAKE CAUGHT LURKING INSIDE GARDEN HOSE REEL
Named Filé and Gumbo by Janusz, the heads reportedly have different personalities. Gumbo is the dominant side although both heads are described as "feisty" and often end up wrestling after trying to go in opposite directions.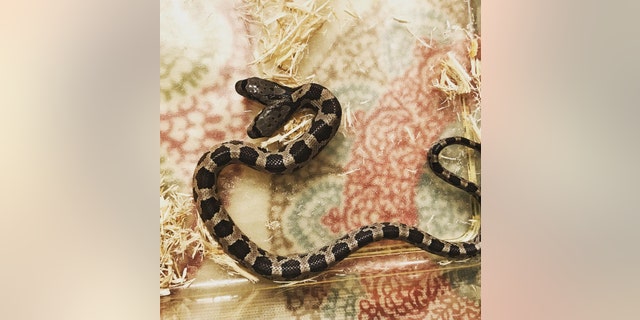 Janusz is now touring schools, libraries and scout groups educating people about the rare animal.
The nonvenomous snake eats frozen mice.
VENOMOUS COPPERHEAD SNAKE SPOTTED NEAR WASHINGTON'S NATIONAL MALL
Last month a venomous copperhead snake was spotted near the National Mall in Washington, D.C. And earlier this year, an Australian couple got a terrifying surprise when they found one of the world's deadliest snakes lurking inside a garden hose reel.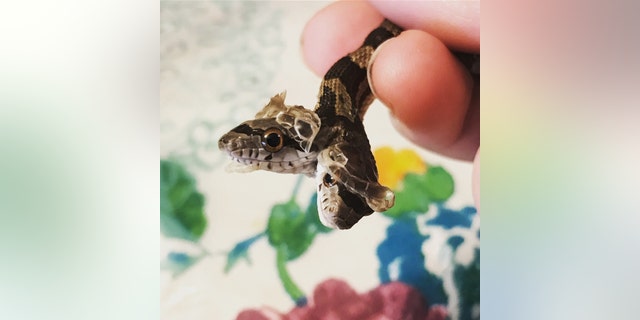 Fox News' Jen Earl contributed to this article.