Rare Titanic rescue letters surface
Two extremely rare letters written by a passenger on Titanic rescue ship RMS Carpathia are up for auction in the U.K. this weekend.
The previously unpublished accounts detail the rescue of survivors from the doomed liner. Titanic hit an iceberg at 11:40 p.m. ship's time on April 14, 1912, and sank just over two hours later with the loss of more than 1,500 lives.
Dated April 17, 1912, the letters are written by Eleanor Danforth, a passenger on Carpathia, which was traveling from New York to Europe when it received Titanic's distress call. As the Carpathia rushed to the site of the disaster, Danforth describes standing on the ship's deck and seeing, in the darkness, the "glimmer of the iceberg" that Titanic struck.
HAUNTING TITANIC PHOTO SHOWS DISASTER VICTIM'S BURIAL AT SEA
Urged to return to her stateroom, Danforth watched the rescue unfold from a porthole. "There I watched the first boat come in, the people climbing the ladder up the side of the ship or being pulled up in a swing sort of thing," she wrote. "A bag was let down for the babies and children. Shortly after we went up on deck again, and the boats came in one by one."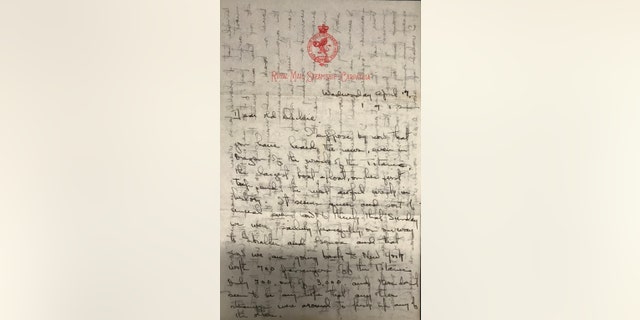 Carpathia arrived at the scene of the disaster just hours after Titanic's sinking. "How some of those people stood the cold and, half-frozen as they must have been, managed to climb the ladder I don't understand, because some of them were in the lifeboats about seven or eight hours, if not longer," Danforth wrote. "Some were dressed in evening clothes, some in anything and everything, and others in only their nightclothes."
Desperate to help, Danforth helped clothe and feed two French children, aged about 18 months and three years, and gave items of clothing to other survivors.
TITANIC STUNNER: MENU FROM FIRST MEAL SERVED ON DOOMED OCEAN LINER UP FOR AUCTION
"Everything and everywhere is filled with people. We have two people in our stateroom – a girl and her mother who are both ever so nice, and we were fortunate in having people who have the rest of their family on board as they are much more cheerful," she wrote.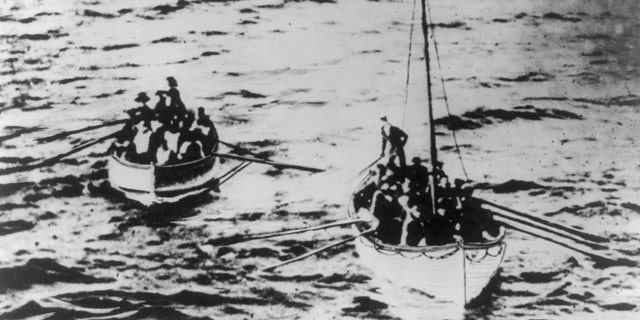 The letters, which have a pre-sale estimate of about $7,000 to $11,300, will be auctioned by Henry Aldridge & Son on April 21.
Other artifacts up for auction this weekend include the rare photo of a Titanic victim's burial at sea and a menu from the first meal served on the liner.
TITANIC TREASURES SOLD AT UK AUCTION
In 2016, the sextant used by Carpathia's captain sold for just under $97,000. Three photos and a handwritten note detailing the grisly discovery of Titanic's last lifeboat were sold for $6,800.
Follow James Rogers on Twitter @jamesjrogers