Rare Titanic love letter up for auction offers insight into life on the doomed ocean liner
A rare letter written onboard the RMS Titanic is going up for auction, detailing what life was like during the final days of the ill-fated ship.
The letter was written by Second Class passenger and survivor Kate Buss on April 10, 1912, after she left Southampton, England, according to auction house Henry Aldridge & Son.
"It's a superb letter and it has been in the possession of the family since Miss Buss posted it on the Titanic," explained Henry Aldridge & Son auctioneer Andrew Aldridge, in an email to Fox News.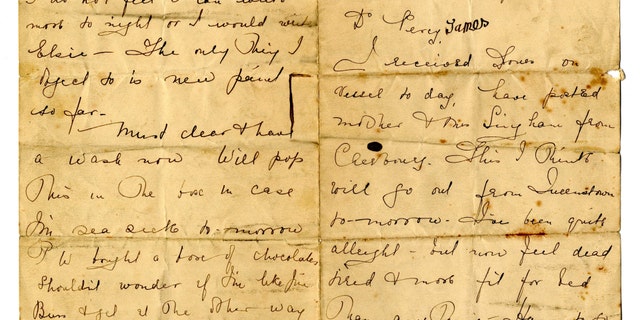 Aldridge added that the letter is written over four sides in black ink.
The letter from Buss is addressed to Percy James and notes that she received James' letter while she was on board and she had "notified her mother and Mrs. Lingham."
"I've been quite alright — but now feel dead tired & more fit for bed than anything," Buss wrote in the letter. "Have to go to dinner-tea in half an hour."
SAILING TO DISASTER: RARE TITANIC PHOTOS UP FOR AUCTION
Buss' letter gives a further glimpse into life on the Titanic, which sank in the Atlantic Ocean in the early hours of April 15, 1912, just five days after its maiden voyage started. There were approximately 2,224 people onboard the ship, 1,503 of whom perished, making it one of the most deadly shipwrecks in modern history.
"Mr. Peters spent about an hour on the vessel + they might easily have spent another without waste of time," Buss added. "The first class apartments are really magnificent & unless you had first seen them you would think the second class were the same."
Buss also writes that they had not yet reached Cherbourg, France, but the mail had cleared. "I think I'd best try & get some postcards of the vessel," she wrote.
She also wrote that the passenger she was sharing her stateroom with had not yet turned up and was advised to eat a good lunch by two clergymen opposite her at the table.
In the email to Fox News, Aldridge said the clergymen may have been one of Father Byles, Rev. Harper or Rev. Robert Bateman, as they "were all Second Class passengers so it's conceivable she could have been sat with one of them."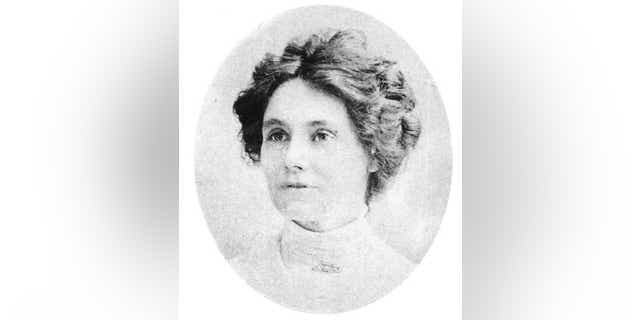 RARE TITANIC PHOTO UP FOR AUCTION, OFFERS GLIMPSE INTO DOOMED LINER'S FINAL DAYS
Father Byles perished on the Titanic, remaining on the ship, hearing confessions and giving absolution according to media reports. Revs. Harper and Bateman also perished, freezing to death in the icy cold water as the ship sank.
Buss concludes the letter that she "must clear & have a wash now" and that she will put the letter in the post in case she became sea sick the next day.
"Must clear & have a wash now," she wrote. "Will pop this in the post in case I'm sea sick tomorrow. PW brought a box of chocolates ‒ shouldn't wonder if I'm like Jim Buss & get it the other way. Give my love to all enquirers ‒ must go.
Much love Kate."
Buss was saved in lifeboat number 9 when the Carpathia picked her up. Buss was the last to be unloaded "due to her fear of heights," Aldridge added.
The letter has a pre-sale estimate of $28,341-$35,426 (£20,000-£25,000).
Buss died on July 12, 1972 aged 96.
This story has been updated to include information on Father Byles and Revs. Harper and Bateman.
Follow Chris Ciaccia on Twitter @Chris_Ciaccia.