Rare red lobster looks cooked, but is alive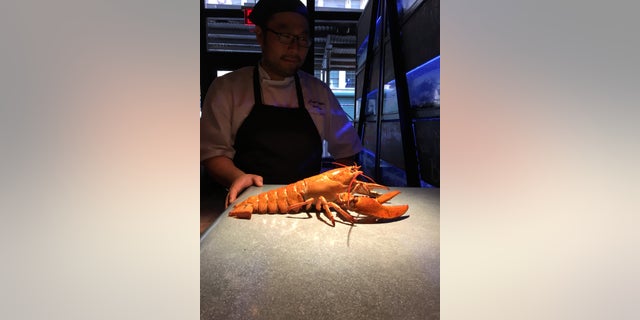 In a stack of tanks near the entrance of Burger & Lobster in New York City is an uncommon lobster, and her name is Ruby.
She's rare because she's red. Out of her tank, under the lights of the bar, she looks like she's been cooked. But she hasn't been. She's very much alive. Most lobsters have a dark green, blackish, orange color, and only look red once they've been cooked. But not Ruby.
Executive chef Danny Lee said that the feisty lobster arrived at the restaurant in a shipment of about 2,000 pounds of lobster.
"And while we were sorting through them," Lee said, "lo and behold, it looked like a cooked lobster, amongst all of them."
He picked her up a couple times to show her off to a visiting reporter. At some point, Ruby— who weighs about 1.5 pounds— cut Lee's finger, and later, he put on a blue bandage. Her claws don't have rubber bands on them.
"You can see how feisty she is," he said, standing by the tanks. "This means that she's very healthy."
A lobster of a different color
A lobster of with a vivid blue shell grabbed the public's attention earlier this summer when she was caught off Massachusetts.
But Bob Bayer, the director of the Lobster Institute at the University of Maine, said that red lobsters like Ruby are even rarer than blue ones.
"It's red, and it will get redder," Bayer told FoxNews.com, especially if it is fed a proper diet of tasty food like crab, crab shells, and shrimp.
Bayer said that the genetics of blue lobsters are well known: breed a blue one with a blue one, and blue lobsters are born. But the genetics of red lobsters like Ruby are not as well understood.
Besides the blue lobster, another lobster has been in the news this summer. His name was Larry, and he was notable for being incredibly big— about 15 pounds. Larry turned up in a Florida seafood restaurant, and although a campaign to rescue him resulted in a trip to Maine, he died en route.
A condominium for lobsters
Ruby lives upstairs at Burger & Lobster, but in the basement of the restaurant is what is called the "lobster condo." Blue plastic bins are stacked on top of each other, and water flows from pipes at the top, down into the bins, to keep the water oxygenated. It's cold and dark down there, like the ocean. The water temperature is about 39 degrees.
They mix their own saltwater for the lobsters in a nearby mechanical room, adding salt to freshwater.
"You don't want to be pulling the water from the Hudson," Lee joked, while giving a tour.
There were about 2,000 lobsters dwelling in the condo on a recent visit, all originally from Nova Scotia.
But Ruby will not be the meat in someone's lobster roll (which comes served on a toasted, buttered potato brioche roll, with just a little mayonnaise, and chives on top).
Instead she will find a new home at the Long Island Aquarium and Exhibition Center in Riverhead, New York.
Follow Rob Verger on Twitter: @robverger