Rare painting by Dutch Renaissance artist Hieronymus Bosch found in Kansas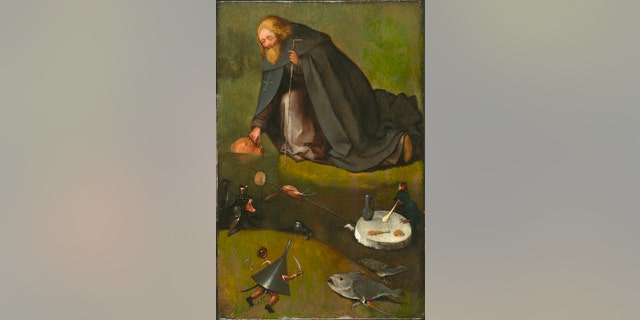 NEWYou can now listen to Fox News articles!
A rare 500-year-old work by Dutch Renaissance artist Hieronymus Bosch, previously attributed to the painter's workshop, has been identified at the Nelson-Atkins Museum of Art in Kansas City.
The painting, "The Temptation of St. Anthony," was purchased from a New York gallery in 1935, and has mostly been in storage at the Nelson-Atkins Museum, according to the Kansas City Star. The last time the oil-wood panel was on display at the museum was 2003.
Related: Ancient 4,500-year-old boat discovered in Egypt
There are only 25 paintings known to be by Bosch in existence, only five of which, including the latest find, are in the U.S.
"The Temptation of St. Anthony," a 15-by-10-inch panel dating from 1500 to 1510, is the Nelson-Atkins' sole Bosch.
Related: Archaeologists uncover 'Buddha post hole' in Nepal
Experts from the Het Noordbrabents Museum in Den Bosch, the Netherlands, which is Bosch's hometown, noticed the painting in a 2003 catalog, the Kansas City Star reports. They contacted the Nelson-Atkins last year requesting a high-resolution photo and an infrared reflectogram of the panel.
The attribution of the work was made by the Bosch Research and Conservation Project, which sent a team to Kansas City to study the painting and concluded that it could "be ascribed to Bosch with confidence."
Related: Tombs of ancient rabbis possibly discovered in Galilee
According to the Nelson-Atkins, investigators were able to detect
Bosch's typical technique of sketching an underdrawing over the ground layer of his oak panels using a coarse brush with thin paint. Bosch also often changed his designs, and a change in the shape of the jug in the St. Anthony panel was apparent.
The work is on loan to the Het Noordbrabents Museum for an exhibition opening Feb. 13. The show in Holland marks 500 years since Bosch's death in 1516.
The Associated Press contributed to this report.