Rare clubhook squid spotted in Oregon for second time in 2 weeks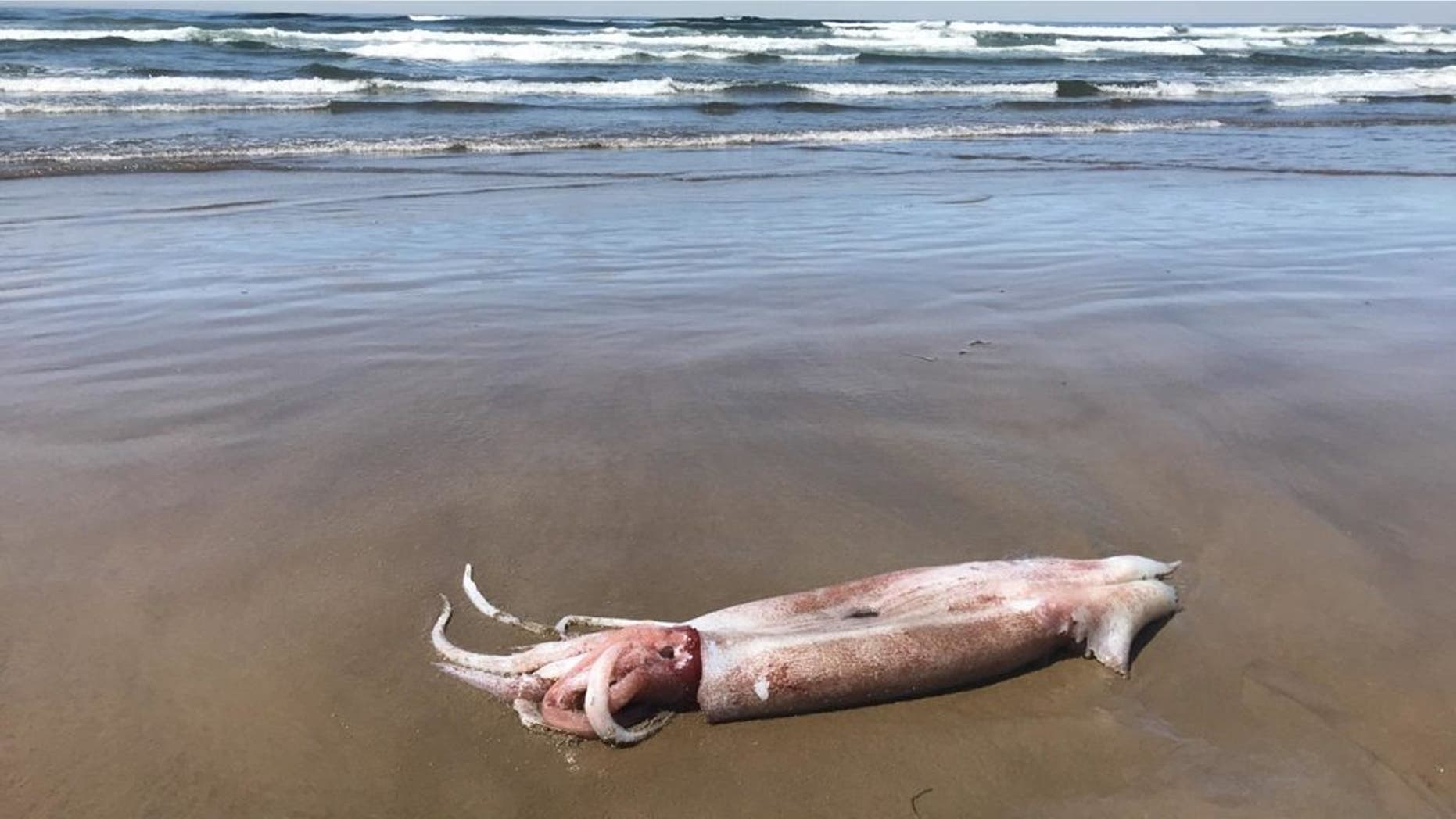 A robust clubhook squid washed up on an Oregon beach last week for the second time within the span of two weeks, giving researchers another rare opportunity to study the mysterious deep sea creature.
The 8-legged squid, which measured 9 feet long with 5-foot-long tentacles, had been dead a few days when beachgoers Debi Tribe and daughter Cami discovered it on a beach in Neskowin. The first clubhook squid was found about 70 miles away in Cannon Beach on July 27.
"When they saw the article in the Oregonian about the squid in Cannon Beach they called us to see if we would be interested in examining this one. We were!" Seaside Aquarium announced in an Aug. 9 Facebook post, sharing several photos of the stunning discovery.
RARE 10-FOOT SQUID WASHES UP ON OREGON BEACH
Like the first squid, researchers will also dissect this sea creature in hopes of learning more about its habits.
"The beak was already gone but we took a few tissue samples which will be sent to Alaska where they will be used to further study the diet of sperm whales," the aquarium said.
Fortunately, the squid's body was mostly intact, allowing researchers to measure the animal and determine whether it was male or female.
"Since little is known about these large squids each one we get to examine is a unique opportunity to learn just a little more," the aquarium added.
MYSTERIOUS 20-FOOT SEA CREATURE COVERED IN SHAGGY HAIR WASHES UP ON PHILIPPINES BEACH
The robust clubhook squid can grow up to 12 feet long, making it the third largest squid species in existence.
"M. robusta is distinguished from other squid of the North Pacific by presence of 2 rows of sharp hooks on the tentacle clubs, by the length of its fins, the fleshy longitudinal ridges on its body, and its large size," the Seattle Aquarium explained in a blog post, citing research from F.G. Hochberg, an expert on cephalopods.
This particular type of squid is typically found in warmer areas of the Pacific Ocean, anywhere from California to Japan, the Oregon Coast Beach Connection reports.