Rare Apollo 11 US flag flown to the Moon sells at auction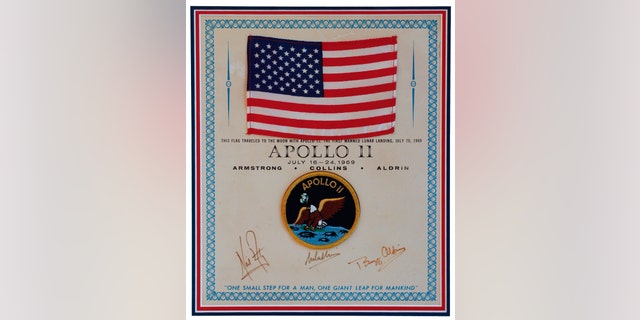 As the 50th anniversary of the historic Apollo 11 mission gets closer, a U.S. flag that flew to the Moon during the mission sold at auction for an out-of-this-world sum: $62,500.
The flag is mounted to an official NASA certificate that reads "''This flag traveled to the Moon with Apollo 11, the first manned lunar landing, July 20, 1969," according to Nate D. Sanders Auctions, which auctioned off the treasured piece of American history.
Apollo 11 astronauts Neil Armstrong, Buzz Aldrin and Michael Collins have also signed certificate, which features the mission's emblem, the auction house added. The bottom of the certificate also reads Armstrong's famous line "One small step for man, one giant leap for mankind."
MEMORABILIA FROM NEIL ARMSTRONG, JOHN GLENN GO UP FOR AUCTION
Auction house owner Nate Sanders noted that as the 50th anniversary of the mission comes up in 2019 – July 20 to be precise – "collectors continue to cherish memorabilia from the Apollo program."
Another famous flag that was planted on the Moon as part of the Apollo 11 mission. That flag was knocked over by engine exhaust as the spacecraft lifted off, NASA wrote on its website, citing statements made by Aldrin.
In recent weeks, a number of Apollo 11-related items have gone up for auction.
More than 700 lots that were offered as part of the Neil Armstrong Family Collection by Heritage Auctions in Dallas brought in $5.2 million in bids. Included in the lots were a metal spacecraft ID plate that landed on the moon with Armstrong and was presented to him after the flight, selling for $468,500.
Other lots include a piece of the historic Wright brothers plane in Kitty Hawk that traveled to the Moon that went up for sale and a silver Apollo 11 medallion minted by the Robbins Company that sold for $112,500.
Follow Chris Ciaccia on Twitter @Chris_Ciaccia