Rainbow spotted in crater of Hawaii's Kilauea volcano
Amid the ongoing destruction as lava from Hawaii's Kilauea volcano has obliterated over 100 homes so far, a spectacular moment was captured Tuesday from the top of the mountain.

A livestream of the Halema'uma'u Crater provided by the U.S. Geological Survey showed a late-afternoon rainbow coming out of the summit caldera.
The rainbow was captured about 5:53 p.m. local time, and only lasted a few minutes before fading away.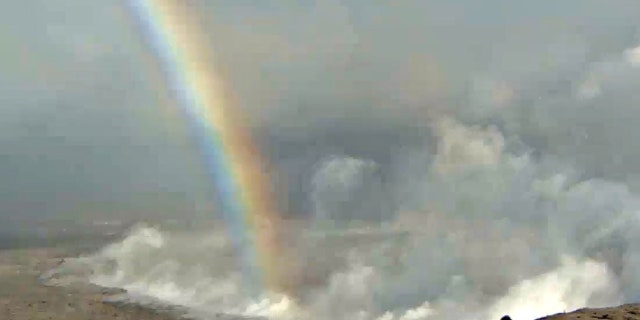 Since the eruption began on May 3, corrosive volcanic ash and smoke from ongoing explosions have billowed out of the Halema'uma'u crater, which has left most of Hawai'i Volcanoes National Park shuttered.
"We understand and commiserate with our community and visitors about the prolonged closure, but we cannot provide safe access to the Kilauea section of the park as long as these very unpredictable dangers threaten the safety of park staff and visitors," Park Superintendent Cindy Orlando said in a statement on Monday.
"Unlike lava, which you can see coming and avoid, we cannot see or predict earthquakes, nor can we foresee a summit explosion, but both threats continue."
HAWAII'S KIM VOWS TO REBUILD FROM VOLCANO WITH HELP OF FEMA, AS SCIENTISTS SAY THE WORST IS YET TO COME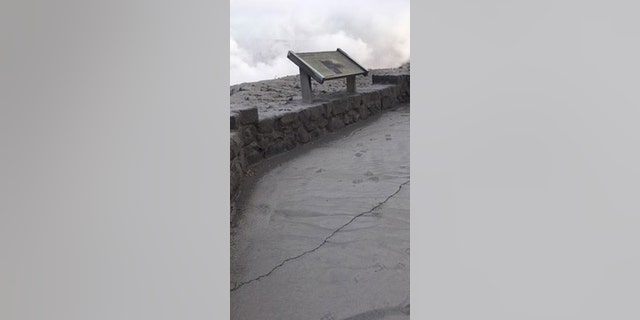 The summit area in particular has been also struck by several earthquakes that have damaged at least three park buildings, fractured park roads, and snapped water lines, according to the National Park Service.
A magnitude 5.5 earthquake rattled the summit area at 3:50 p.m. on June 3, cracking the overlook deck at Jaggar Museum.
HAWAII'S KILAUEA VOLCANO RANKED AMONG TOP 10 MOST DANGEROUS IN US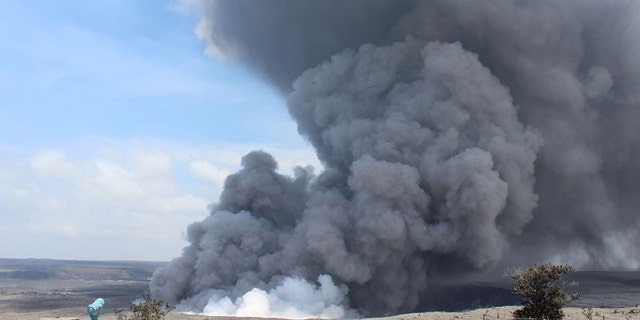 Over the weekend, the U.S. Geological Survey Hawaiian Volcano Observatory reported more than 500 earthquakes in a 24-hour period – the most ever measured by HVO scientists.
"Unfortunately, there's no way to tell when we can reopen the Kilauea section of Hawai'i Volcanoes National Park. We'll only reopen when it is safe to do so, and we will need time to assess, make repairs and clean up," Orlando said. "In the meantime, we ask for your understanding and support."
Further down the mountain, lava entering the water Tuesday at the Vacationland tide-pools has taken over most of the subdivision, and damage has escalated in recent days, forcing thousands have been forced to flee.
Though the full extent of the destruction is hard to tell, Steve Brantley, the deputy scientist-in-charge at the U.S. Geological Survey's Hawaiian Volcano Observatory, told residents late Tuesday the worst may still be ahead.
Fox News' Barnini Chakraborty in Pahoa, Hawaii contributed to this report.