Police dashcam captures stunning footage of fireball streaking across the sky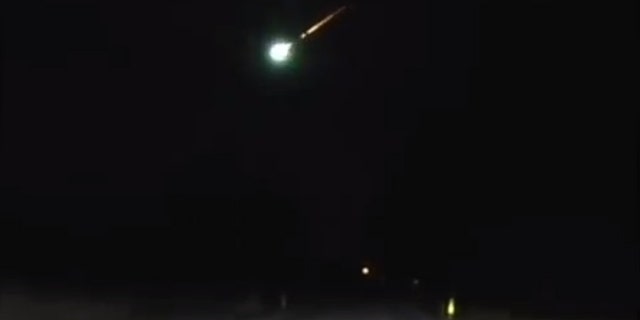 A police dashboard camera has captured incredible footage of a fireball streaking across the sky in New Jersey.
On Thursday the Township of Hamilton Police Department tweeted a video of the fireball that was shot in the early hours of Dec. 2. "On 12/2 at 3:09 am, Sgt. Michael Virga was on patrol when his vehicle dashcam caught a fireball in the sky." it explained.
The American Meteor Society tweeted Thursday that it has received 133 reports about the fireball.
WATCH FIREBALL FLASH ACROSS MAINE SKY
"The fireball was seen primarily from Pennsylvania but was also seen from New York, Maryland, Virginia, Ohio, Delaware, Connecticut, New Jersey, Rhode Island, West Virginia, New Hampshire, Massachusetts and Washington, DC," it explained, in a post on its website earlier this week.
Fireballs have also been spotted elsewhere in the U.S. this week with multiple reports in Florida on Tuesday evening, according to Fox 4.
Last year a police dashboard camera in Portland, Maine recorded footage of a huge fireball dropping from the sky.
Follow James Rogers on Twitter @jamesjrogers