Polar Bear Researcher Suspended, Under Investigation for 'Integrity Issues'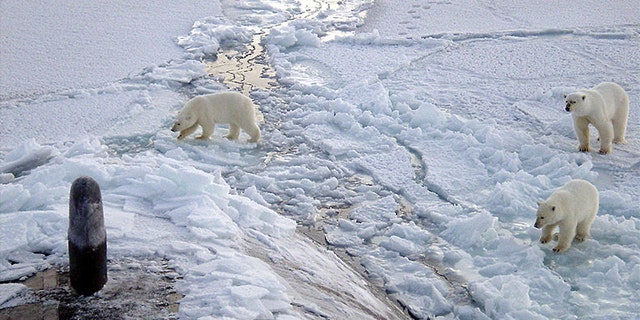 NEWYou can now listen to Fox News articles!
A leading climate scientist whose report in 2006 of drowning polar bears in Arctic waters galvanized the global warming movement -- and was highlighted in Al Gore's Oscar-winning climate-change documentary -- has been suspended, possibly over the accuracy of his observations.
Charles Monnett -- who manages as much as $50 million worth of climate research on Arctic wildlife and ecology -- was told on July 18 that he was being put on leave pending an investigation into "integrity issues," according to a letter posted online by the advocacy group Public Employees for Environmental Responsibility (PEER), which is questioning Monnett's suspension.
The complaints against the Anchorage-based scientist with the U.S. Bureau of Ocean Energy Management, Regulation and Enforcement (BOEMRE) remain unclear, and the connection to his seven-page 2006 peer-reviewed paper on the drownings are unknown, despite a months-long or longer investigation.
PEER charges Monnett's suspension amounts to a witch hunt.
"The quality and continuity of the scientific work he's overseeing is distinctly being jeopardized," Jeff Ruch, PEER's executive director, told FoxNews.com.
His group alleges the Interior Department is violating its own rules and regulations, and that the ongoing investigation seems intended merely to disrupt Monnett's body of scientific work.
"We assumed after the February interviews this would all be cleared up. Apparently not," Ruch said.
Steve Hargrove, chief of staff for the office of the Inspector General, declined to comment on "an ongoing investigation," other than to tell FoxNews.com it's one of about 200 cases the agency works each year.
Ruch said BOEMRE has barred Monnett from talking to reporters, and calls to his office and home were not answered.
Myron Ebell, of the Competitive Enterprise Institute, could not speak directly to Monnett's case but said he believes the public has a right to be skeptical about scientific claims related to global warming.
Even if every scientist is objective, "what we're being asked to do is turn our economy around and spend trillions and trillions of dollars on the basis of claims about what's going to happen to the climate," he said, adding later: "If global warming really takes hold here in the next few years and bad things start to happen, then we can act. But right now, I think we should just be sitting on our hands, observing."
Michael Browich, the director of BOEMRE, told his staff by email Friday that the suspension was unrelated to the 2006, AP reported, though he would not clarify what information the group sought. Documents provided by PEER seem to contradict that.
They indicate investigators are focusing on observations that Monnett and fellow researcher Jeffrey Gleason made in 2004, while conducting an aerial survey of bowhead whales. The report said they observed four dead polar bears floating in Arctic waters after a storm. They detailed their observations in an article published two years later in the journal Polar Biology; presentations also were given at scientific gatherings.
In the peer-reviewed article, the researchers said they were reporting, to the best of their knowledge, the first observations of polar bears floating dead offshore and presumed drowned while apparently swimming long distances in open water -- suggesting "that drowning-related deaths of polar bears may increase in the future if the observed trend of regression of pack ice and/or longer open water periods continues."
The article and presentations drew national attention and helped make the polar bear something of a poster child for the global warming movement. Al Gore's mention of the polar bear in his documentary on climate change, "An Inconvenient Truth," came up during investigators' questioning of Gleason in January.
In May 2008, the U.S. classified the polar bear as a threatened species, the first with its survival at risk due to global warming.
According to a transcription of a February 23 interview, investigator Eric May asked Gleason his thoughts on Gore referencing the dead polar bears. Gleason said none of the polar bear papers he has written or co-authored has said "anything really" about global warming.
The Associated Press contributed to this report.