Poignant farewells: Tragic Titanic letters up for auction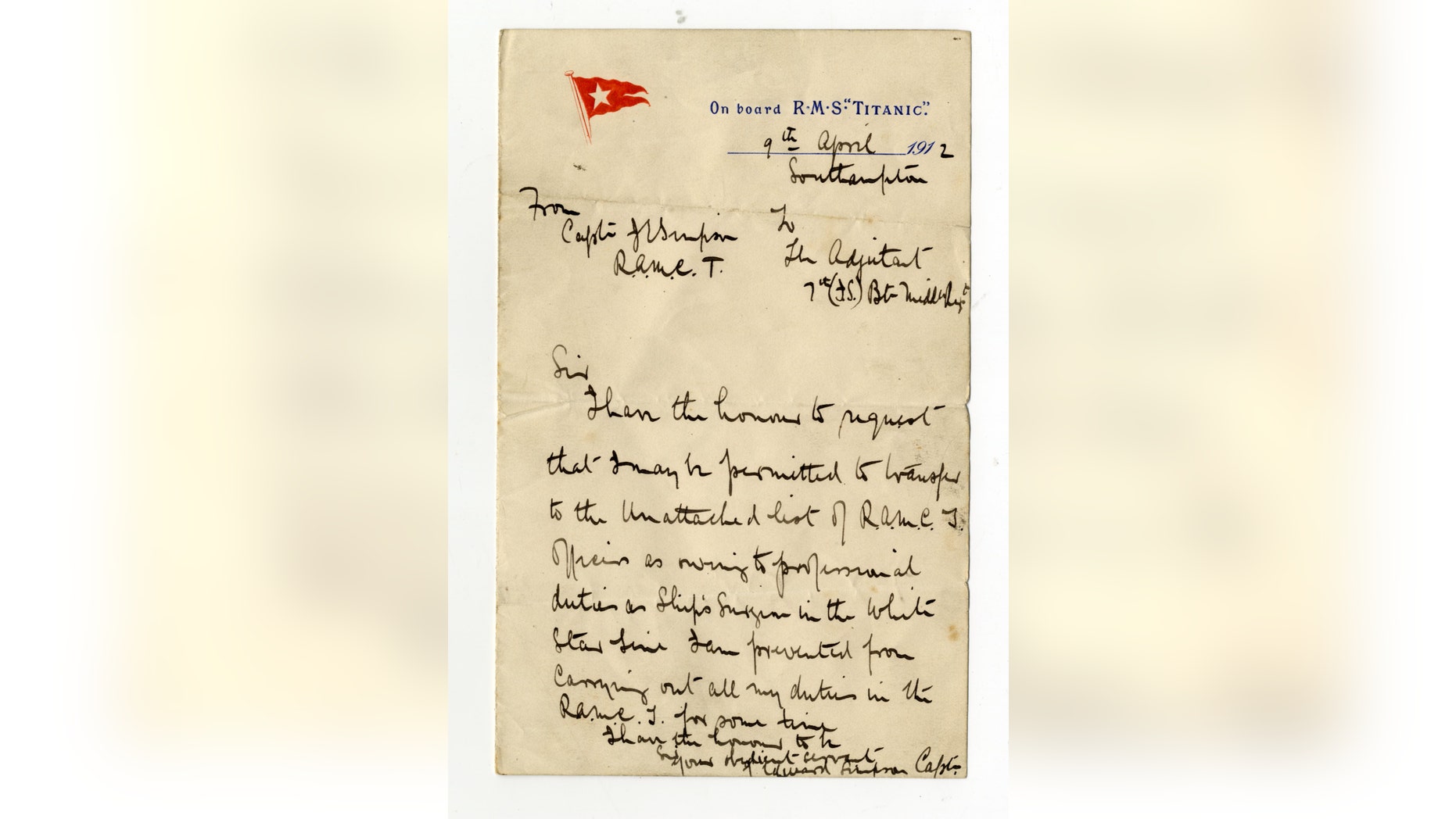 Rare letters that provide a fascinating glimpse into life on Titanic and the liner's fateful final moments are up for auction in the U.K.
A letter written by Titanic's second officer Charles Lightoller provides an incredible snapshot into the ship's sinking in 1912. Lightoller, the highest ranking surviving crew member, gives a first-person account of his farewell to crew members including the ship's assistant surgeon Dr. John Simpson.
Titanic struck an iceberg at 11:40 p.m. ship's time on April 14 1912 and sank just over two hours later with the loss of more than 1,500 lives, including Simpson.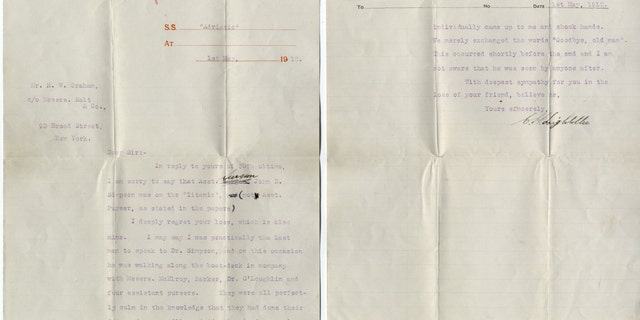 "I deeply regret your loss, which is also mine," Lightoller writes, in the letter sent to Simpson's friend R.W. Graham of Holt & Co. in New York. "I may say I was practically the last man to speak to Dr. Simpson, and on this occasion he was walking along the boat-deck in company with Messrs. McElroy, Barker, Dr. O'Loughlin and four assistant pursers."
"They were all perfectly calm in the knowledge that they had done their duty and were still assisting by showing a calm and cool exterior to the passengers," he added. "Each one individually came up to me and shook hands. We merely exchanged the words 'Goodbye, old man.' This occurred shortly before the end and I am not aware that he was seen by anyone after."
Lightoller's letter was written on board S.S. Adriatic on May 1 1912 when he was returning to the U.K. after giving evidence at the U.S. inquiry into the loss of the White Star Line's Titanic.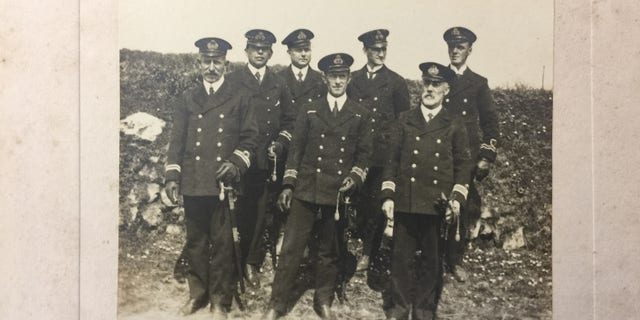 Another letter up for auction was the first written on board Titanic by Simpson. In the letter to the Adjutant of the First Battalion of the Middlesex Regiment, Simpson, a British Army reserve doctor, requests a transfer to the military's inactive list so that he can perform his duties on Titanic. The letter was sent on April 9 1912, the day before Titanic's fateful maiden voyage, and is written on the ship's official stationary.
"The content of these letters is among the most important we have ever handled, to have an account of the last moments of the ship written by the ship's most senior surviving officer on his return from the American Titanic enquiry is unprecedented," Henry Aldridge & Son auctioneer Andrew Aldridge told FoxNews.com.
The letters have pre-sale estimates of $12,648 to $18,973 and $37,946 to $63,243, respectively and will be auctioned by Henry Aldridge & Son with other Titanic, White Star Line and ocean liner artifacts in Devizes, U.K. on Oct. 22.
A number of artifacts from the doomed ship were auctioned in the U.K. earlier this with the sextant used by the captain of rescue ship Carpathia selling for just under $97,000. Three photos and a handwritten note detailing the grisly discovery of Titanic's last lifeboat were sold for $6,800.
Follow James Rogers on Twitter @jamesjrogers