Photographing the solar eclipse: What you need to know
Getting a photo of the solar eclipse on August 21 won't be as easy as taking any other picture, experts say.
"[Taking a photo] can ruin your phone or your camera," Carnegie Science Center Planetarium Manager Mike Hennessy told Fox News.
NASA and the Carnegie Science Center give tips on how to take a photo without hurting your eyesight or ruining your phone's camera.
Use a solar filter: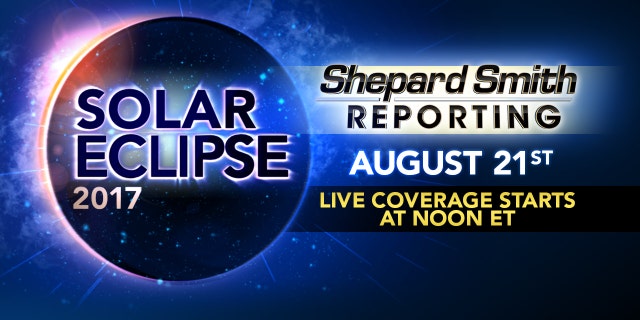 "This best thing to do is to cover the camera lens with a solar filter during the moments before (and after) totality when the sunlight is still blinding," NASA explains, in its guidelines. "This will eliminate sun blooming and give you a clear image of the solar disk."
TOTAL SOLAR ECLIPSE DANGERS: WILL I GO BLIND IF I STARE AT THE SUN?
It's okay to take off the filter only during totality, according to NASA.
A pair of ISO-Certified sun-viewing glasses can be used to cover the smarphone lens, NASA says, adding that sunglasses should not be used to cover the lens.
"It is a good idea to set up your smartphone on a tripod or one of those wrap-around mountings so that you can fix the angle of the shot before the eclipse starts," NASA explains. "The sun disk will be small enough that you will want to avoid the inevitable shaking that occurs when holding the camera. When totality starts, take the filter off and shoot normally with the smartphone."
HOW TO TELL IF YOUR ECLIPSE GLASSES ARE UNSAFE (AND WHAT TO DO ABOUT IT)
NASA notes that you will only have 2.5 minutes or less to take photos of the eclipse, and urges photographers not to forget to take shots of their surroundings and what people are doing. "This will require low light level 'twilight' photography on your smartphone, and you may need to download a specific camera app that let(s) you manually adjust exposure speed, etc," it added.
Be prepared
NASA says that it is worth taking some practice shots. "Practice taking photos several days before just after sunset during twilight, because the light levels will be similar if you are on the path of totality," it said. "You might even visit the exact spot near the time of the eclipse, but several days before the eclipse, to format your shots and get the right photo composition. The eclipse will happen roughly due south of your location, so make sure you have a reasonably obstructed view."
A good idea is also to practice photographing the full moon to get an idea of how large the sun-in-eclipse will appear with your smartphone's lens, or with a telephoto lens attachment, according to NASA.
STUDENTS PREPARE TO LAUNCH BALLOONS TO GET BIRD'S-EYE VIEW OF SOLAR ECLIPSE
Smartphone users will also need to make sure that the image is properly focused. "Don't count on your auto-focus to do this," explains NASA. "You have to do it manually, and this is as simple as tapping the screen and holding your finger on the moon to lock the focus. Then slide your finger up and down to darken or lighten the exposure."
Partial solar eclipse
For those who will see only a partial solar eclipse, NASA does not have photography recommendations because it cannot guarantee safety.
"Using optical filters to photograph the eclipse when you are not on the path of totality is inherently risky because you are looking at the blindingly bright solar surface," the guidelines state. "NASA makes no recommendations about how to safely photograph the partial solar eclipse phases because of the huge number of optical filter and camera models that may be potentially used and often with unsafe outcomes."
HOW CAN I SEE THE SOLAR ECLIPSE?
However, there are options for capturing an image of the partial solar eclipse.
Use a cereal box to take a photo of a projection of the eclipse
Carnegie Science Center Planetarium Manager Hennessy recommends making a pinhole and viewing hole on one end of a cereal box to see the crescent shape that forms during a partial eclipse.
"You can take your phone and point it into your pinhole projector and take an image of that projection you made of the partial solar eclipse," he told Fox News.
Try a post card
Just like the cereal box, Hennessy recommends creating a pinhole that the light can go through. The crescent shape can then be seen on a blank sheet of paper and photographed.
Use a colander
The light will enter the circles of the colander and can be projected onto a piece of paper, which can be photographed.
EARTH WILL HAVE ITS LAST TOTAL SOLAR ECLIPSE IN ABOUT 600 MILLION YEARS
"During a partial solar eclipse, you won't actually see those circles. What you'll see are crescent shapes on the piece of paper because the moon will be covering most of the sun," Hennessy said.
If it's cloudy during the solar eclipse, it won't be possible to see the moon covering the sun, but NASA will be streaming the entire path of the eclipse on its website.