Perfect for a space 'Santa'? Scientists eye distant snowy moons for signs of life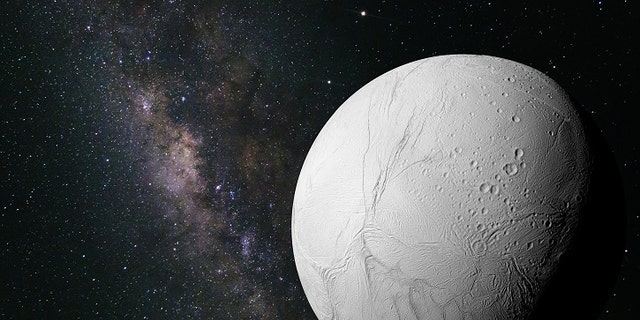 Scientists in the U.K. have identified Saturn and Jupiter's snowy moons as potentially representing the best chance for life outside of Earth.
Whether you blame it on carbon emissions or consider it just part of the Earth's natural life cycle, you can't deny this basic fact: Our planet is getting warmer.
The effect of climate change is particularly stark in the Arctic Circle, where, according to the NOAA Arctic Report Card 2017, the winter maximum sea ice extent in March was the lowest on record and sea surface temperatures in August were 7 degrees warmer than average.
'STUNNING' TIC-TAC SHAPED UFO ENCOUNTER BY US NAVY PILOT? 'IT WAS NOT FROM THIS WORLD'
And that doesn't bode well for the region's most celebrated resident — a jolly old man with rosy red cheeks and a long white beard whose address reads simply: North Pole. There'll be no ho-ho-ho-ing when Santa's Workshop tumbles into the Arctic Ocean.
So Santa could be forgiven for looking for a new home, a cool place with great views and lots of room for elves, reindeer, a sleigh and gazillions of toys. And if he's inclined to pack up and relocate, scientists at the University of Warwick's Center for Exoplanets and Habitability may have just the right place: the moons of Saturn and Jupiter.
They're ice- and snow-covered, with huge oceans lying beneath their surfaces, conditions the researchers say could support life.
AMAZING ALIEN MINERAL DISCOVERY: SITE OF 60 MILLION-YEAR-OLD METEORITE STRIKE STUNS SCIENTISTS
Santa might want to consider Enceladus, Saturn's sixth largest moon. It's covered with fresh ice and snow, and the temperature is a cool 324 degrees below zero — at noon. (An extra jacket is recommended for the evenings.)
That's plenty cold, but the researchers say life could nonetheless thrive in the moon's environment. Enceladus has large bodies of water beneath its surface that undergo changes in temperature and pressure and may have hydrothermal vents — all of which could encourage the development and sustainability of life. The ice above the water, meanwhile, could protect those organisms from ultraviolet radiation and cosmic rays.
But then again, it is awfully cold, and nobody knows for sure that Santa's reindeer can handle a 746-million-mile sleigh ride every year to reach the good girls and boys tucked away in their beds on Earth.
IN 2018, WE WILL SEE A BLACK HOLE FOR THE FIRST TIME EVER
"Living in a never-ending landscape of snow and ice all year might not seem particularly inviting, even for Santa," said Warwick Professor Dr. David Brown. "But these moons represent some of the best chances for life beyond Earth in the solar system, and are environments that we're very interested in exploring.
"Looking at places like Enceladus gives us a great chance to explore the potential of these winter wonderlands for supporting life."