Panda Politics Boost Japan-China Ties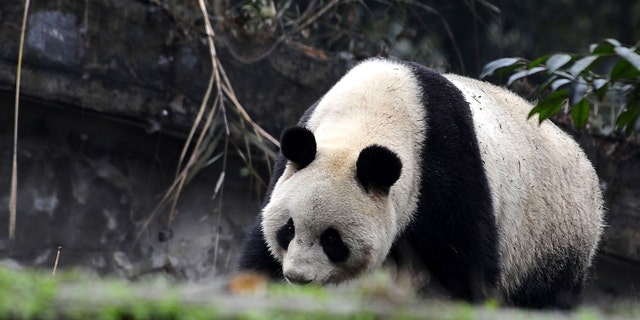 NEWYou can now listen to Fox News articles!
Japan hopes that two giant pandas from China will help warm bilateral ties strained over a territorial spat -- and give Tokyo's economy a jolt, too.
The two 5-year-old pandas were due to arrive at Tokyo's Ueno Zoo later Monday. They'll be the zoo's first since the 2008 death of its beloved giant panda Ling Ling.
The Ueno area has been gearing up for the pandas' arrival for weeks, with banners carrying panda cartoons and shops selling novelty goods. Japanese media crews were camped at the zoo.
"The pandas are finally coming to town," said beaming Masahiro Kayano, a jewelry store owner in Ueno. "We are so excited."
The pair -- female Xiannu and male Bili -- headed to the zoo Monday night after landing in Japan's Narita airport a day after leaving the panda preserve in southwestern China's Sichuan province.
The scene of their arrival at the airport, with an aircraft landing on the runway and their cages taken out of the plane, was broadcast live on Japan's public broadcaster NHK.
The two are expected to debut for the public in late March following health checks and other procedures.
"I hope the pandas become popular and many Japanese people get to see them so that their impression of China would improve further," Japan's Foreign Minister Seiji Maehara said Friday -- though he did mention that the pandas' rental costs were "expensive."
Ties between Japan and China fell to their lowest point in years after boat collisions off some small islands in the East China Sea last October, sparking nationalism in both countries.
The Tokyo metropolitan government is renting the pandas for $950,000 a year. The payments will help to rebuild a Sichuan panda sanctuary that was nearly destroyed by a May 2008 earthquake and fund Japan-China joint breeding projects.
But business and tourism officials expect the pandas to more than recoup that cost, boosting the local economy by about 20 billion yen ($240 million), or 10 percent, a year, said Kayano, also a member of the town's panda task force.
Visitors to Ueno Zoo have fallen to around 3 million a year from 3.5 million since Ling Ling's death in 2008, 16 years after he arrived from China. When he died of illness at the age of 22, many Japanese sent condolence messages, bouquets and offerings to the zoo. Chinese President Hu Jintao offered to loan a fresh pair to Tokyo during his visit to Japan a month later.
The zoo's first pair of pandas arrived in 1972, marking the signing of a peace treaty between Japan and China.
Ueno Zoo and its neighborhood community have worked for months to provide VIP-class hospitality. The panda cage was given a 90 million yen ($1.1 million) facelift, installing floor heating, a playground with a sandbox, landscaping and various safety features.
A Ueno veterinarian and a panda keeper are escorting the pair to Tokyo on an aircraft decorated with a black-and-white panda design. They will be treated with rare bamboo from the central Japanese mountain of Izu that is similar to what they used to eat at home.
About 1,600 pandas live in the wild, mostly in Sichuan.
Click here for more good news stories.