New York firefighters free raccoon with head stuck in mayo jar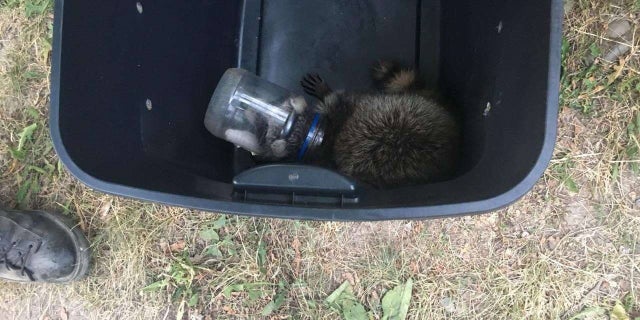 Upstate New York firefighters freed a raccoon stuck in a jar last week in what the department called a "mayonnaising rescue."
Photos of the animal's head trapped in the jar were posted on the Ithaca Fire Department's Facebook page.
"Trapped with a mayonnaise jar on his head, up in a tree, crews were able to get the critter down and remove the jar and send him on his way," the department said in its post.
GRAPHIC IMAGES: ENDANGERED SEA TURTLE STRANGLED BY BEACH CHAIR
The raccoon was "last seen running back to the creek where he lives" and "looked well and thankful."
The post received more than 340 reactions and several positive reactions about the animal rescue.
"It's always hard to get that last drop of mayo out," a Facebook user quipped.
"Hell mans that's awesome!" another user joked.
Others took time to thank the fire department for freeing the animal.
"You guys are amazing. Brave, skilled and compassionate. We are proud of you guys EVERY day!" a commenter wrote in.
However, not everyone was pleased: one user wrote in that it was a waste of taxpayer money.
Firefighters aided a Department of Environmental Conservation officer in the Thursday night incident.