New NASA satellites will better forecast hurricanes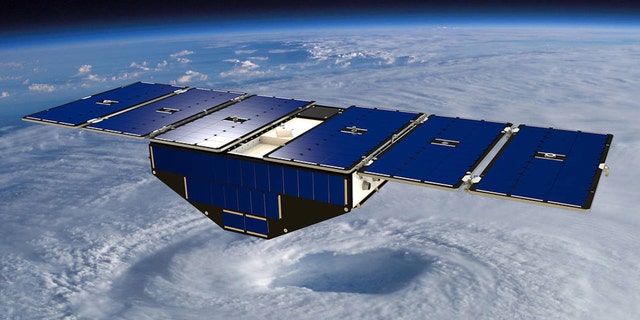 NEWYou can now listen to Fox News articles!
As hurricanes continue to cause greater impact due to factors such as climate change, NASA is working to have new hurricane-tracking satellites up and running by early 2019.
The government space agency is currently testing a group of eight micro-satellites to measure factors such as "wind speeds over Earth's oceans, increasing the ability of scientists to understand and predict hurricanes," in a mission known as Cyclone Global Navigation Satellite System (CYGNSS).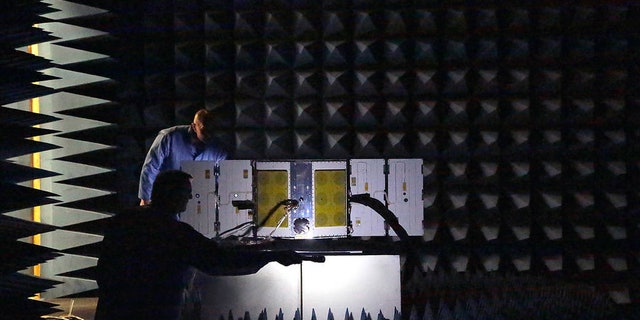 Current tracking technology forecasts with a degree of accuracy the path a hurricane, but its still not able to accurately measure a storm's intensity.
HAWAII VOLCANO ERUPTION FORMS NEW LAVA 'SILAND' JUST OFF COAST
With the new system, NASA hopes to better advise meteorologists and help people who are likely to be affected by the hurricane.
"The fact that we have a much better understanding of where these storms are going to go is a great first step," said Steve Bowen, director and meteorologist for insurer Aon Benfield's Impact Forecasting team in an interview with Reuters.
"We sort of have half the circle filled in, and we need to get that other half filled in, which is that intensity component," he said.
Predicting the power of a hurricane relies on knowing where it gets its energy from, which can be tricky to do as it is happening.
To do that, a hurricane hunter aircraft has to be flown inside the storm, where it can measure inputs such as wind speed from a weather buoy, the Daily Mail reported, a technique known as scatterometry. Or it can rely on satellites that fly over the storm, though they only do this once every other day.
"The CYGNSS satellites will only receive signals broadcast to them from GPS satellites already orbiting the Earth and the reflection of the same satellite's signal reflected from the earth," NASA said on its website.
The satellites themselves will not broadcast, which according to the mission's principal investigator, University of Michigan's Chris Ruf, will result in significant cost savings.
CYGNSS comes at a cost of $157 million, the Mail reported.
When NASA gave the award to Ruf and his team in 2012, it was a five-year deal for $151.7 million, which included "initial development, launch, deployment and data analysis."
VENUS AIRCRAFT COULD BE IN NASA'S PLANS
Each of CYGNSS's mini-satellites weighs just a fraction of regular satellites, at 64 pounds, and has a 5-foot wingspan. They will fly in low-orbit, where they'll utilize the same GPS technology seen in cars and go over the tropics every few hours.
"This sampling strategy will overcome the limitations of a previous single, wide-swath approach," said Ruf, according to NASA.
The data will be shared with National Oceanic and Atmospheric Administration (NOAA) and help them with extreme weather planning, the Mail added.
The advantage of CYGNSS is clear, and not just in getting more data in real time that can be plugged into models.
Aside from helping people prepare, it can save lives. According to Reuters, more than 1,000 people were killed by Hurricane Matthew, after it turned into a Category 5 storm. In a 2017 report, the U.S. National Hurricane Center said it failed to adequately predict how intense the storm would get.

Follow Chris Ciaccia on Twitter @Chris_Ciaccia